Deutsche Bank Rejects Claims of 'Economic Terror' in Turkey
By and
State-owned Yeni Safak paper says bank recalled loans early

German lender says report's claims are 'totally groundless'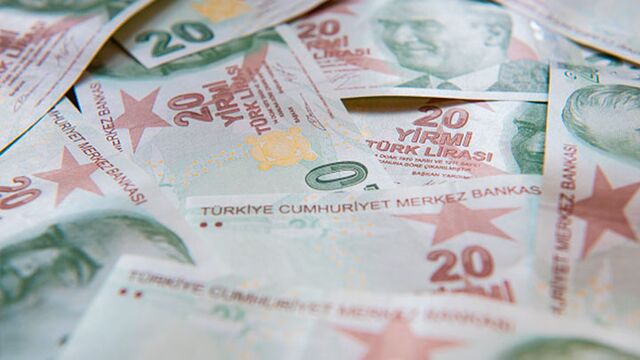 Deutsche Bank AG's Turkish unit rejected claims by a pro-government newspaper that it's plotting to undermine the economy, and said it's "unacceptable" for the lender's name to be associated with terrorism.
The daily Yeni Safak on Thursday reported that Deutsche Bank and other German institutions were attempting "economic terror" against Turkey by recalling loans to companies before their their due dates. It didn't identify the debtors or the other German institutions.
"Claims in the story about calling loans before their maturity and conducting operations in coordination with other institutions are totally groundless," the lender's Istanbul-based business said in an e-mailed statement Friday. Deutsche Bank hadn't been approached for comment before the publication of the article, it said.
President Recep Tayyip Erdogan and his aides often invoke a conspiracy against Turkey by outside powers when the lira declines, saying other nations are jealous of the country's economic growth under his leadership. On Thursday, Erdogan accused Turkey's enemies of speculating in the lira and called on Turks to "thwart these games" by selling their holdings in other currencies.
Deutsche Bank, which has been in Turkey since 1987, employs 143 people at its Turkish unit, which posted net income of 72.5 million lira ($19.2 million) at the end of 2015, according to its annual report.
It's not the first time that Deutsche Bank has attracted the fury of the Turkish press. In January 2014, the German lender denied local reports that it deliberately drove down shares of a Turkish state-run lender that had been implicated in a corruption scandal. Deutsche Bank said most of the shares it processed in that episode were owned by its clients, and it wasn't trading sufficient volumes to affect the company's share price.
More recently, the Frankfurt-based institution figured in a different way in government rhetoric. At the height of the bank's share slide and capital concerns last September, Yigit Bulut, a chief adviser to Erdogan, said Turkey should consider buying Deutsche Bank.
"Some very good companies in the EU are going to fall into trouble and we need to be ready to buy a controlling stake in them," Bulut wrote on Twitter. "Wouldn't you be happy to make Germany's biggest bank into a Turkish Bank!!"
Bulut also criticized Germany's flagship carrier, Deutsche Lufthansa AG, soon after his appointment in 2013. He said the airline was behind anti-government protests that began in Istanbul's Gezi Park that summer, because its position in Europe was threatened by plans to build a new airport in Istanbul.
Before it's here, it's on the Bloomberg Terminal.
LEARN MORE