Citadel Fined $22.6 Million for Retail Stock Trade Infractions
By
SEC says Citadel Securities misled brokers about its system

Largest fine of its kind for this kind of misconduct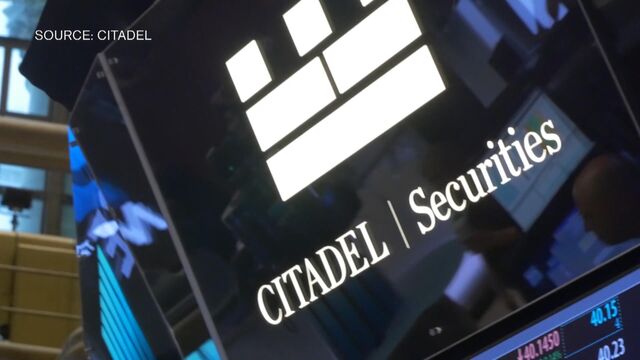 U.S. regulators extracted a $22.6 million penalty from Ken Griffin's Citadel Securities after finding it inaccurately described how it handled trades placed by small investors.
The punishment, a record for this kind of conduct, concerned a widespread but often-attacked system that underpins how retail investors' orders are processed in the $26 trillion U.S. stock market. The case centers on a system where Citadel Securities pays retail brokers for the right to execute small investors' trades.
The Securities and Exchange Commission said a division of Citadel Securities misled brokers about how it priced trades from 2007 through January 2010. That business, called Citadel Execution Services, carries out about one-third of retail trading in the U.S. stock market, according to the SEC.
"The Citadel case shows that the SEC is finally digging in to how trading for individuals actually happens, and how some firms have been preying on these folks for years," said Ty Gellasch, the founder of consulting firm Myrtle Makena LLC and a former SEC attorney.
Citadel Securities neither admitted to nor denied the allegations. "We take very seriously our obligations to comply fully with all laws and regulations," Zia Ahmed, a company spokesman, said in an e-mailed statement.
Disclosure Problem
Citadel Securities' infractions hinge on two of its algorithms, how it used data feeds transmitting stock prices, and its portrayal of its systems to clients, according to regulators.  While Citadel Securities said it either took the other side of the trades sent by brokers, or found the best price for them, two algorithms -- called FastFill and SmartProvide -- didn't do so, regulators said.
To figure out the best prices for buying and selling stocks, trading firms such as Citadel Securities buy data feeds directly from exchanges that transmit information faster and contain more data than the central, standard-bearing feeds, called the securities information processors, or SIPs. In the period examined by the SEC, the Citadel Securities algorithms in question were programmed to recognize disparities between the SIP and other feeds -- while this meant some retail orders got a price benefit, other smaller orders suffered, according to the SEC.
The algorithms in question touched approximately 2.6 percent of retail orders that the division's trading engine handled between June 2008 and 2010, a period when the business had about 70 clients. At the time it received 1.2 million equity orders on average per day.
'Misleading Statements'
"Citadel Securities made misleading statements suggesting that it would provide or try to get the best prices it saw for retail orders routed by other broker-dealers," said Stephanie Avakian, acting director of the SEC Enforcement Division. Securities firms "can't suggest they are doing one thing yet do another when it comes to pricing trades."
While regulators have not banned or decried the payment for order flow model, they've called into question whether it presents conflicts of interest in how retail brokers route their customers' trades. They've also warned about how brokers price customer orders, and differences between the SIPs and fastest data feeds.
Retail brokers are getting held accountable on issues of client order-handling, too. One retail broker, E*Trade Financial Corp., was fined $900,000 by the Financial Industry Regulatory Authority in June for not doing enough to ensure its customers' trades were properly handled.
— With assistance by Matt Robinson
Before it's here, it's on the Bloomberg Terminal.
LEARN MORE