markets
BofA, JPMorgan See Higher Interest Rates Goosing Profits in 2017
By
Donofrio predicts 'significant increase' in interest income

Shares of major U.S. banks extend gain since Trump's election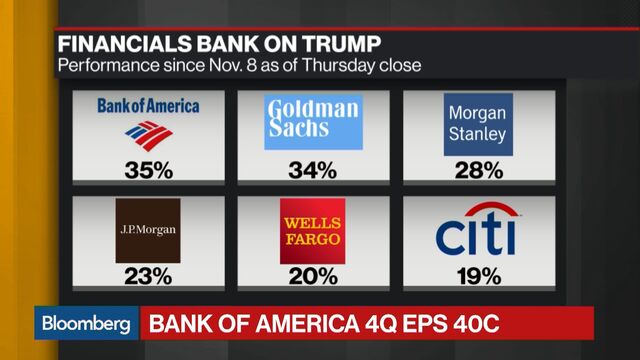 Investors betting U.S. banks will reap huge profits as interest rates rise under Donald Trump were surprised Friday by just how optimistic the nation's biggest lenders are about the year ahead.
Bank of America Corp. boosted its forecast for interest income, the money it gets from making loans and holding debt securities, predicting it'll jump by about $600 million in the first quarter. Brian Kleinhanzl, an analyst at Keefe, Bruyette and Woods, told clients that's more than he expected and will help the shares outperform. JPMorgan Chase & Co. also sounded a note of confidence, and financial stocks rose more than other sectors.
Banks have spent years waiting to earn more from lending as the Federal Reserve and other central banks held benchmarks close to zero to spur growth after the global financial crisis. While the Fed's December rate hike came too late in the fourth quarter to upend the period's results announced on Friday, investors and analysts are bullish on what lies ahead.
"Today was what it was expected to be, which is strength in trading and moderate loan growth, still benign credit environment, but not a lot of evidence of the rates showing through yet," said Shannon Stemm, an analyst at Edward Jones & Co. "The market is, correctly, still focused on what the improved environment means for 2017 results."
Stocks Climb
The KBW Bank Index of 24 major U.S. lenders rose as much as 2.1 percent and was up 0.6 percent as of 12:37 p.m. in New York trading. That extended its gain since Trump's victory in the presidential election to 24 percent. Wells Fargo & Co. climbed 0.7 percent, and Bank of America and JPMorgan rose 0.2 percent. Financial stocks were the day's best performers among 11 major industries in the S&P 500 Index.
Wells Fargo's net interest income increased 7 percent to $12.4 billion in the quarter from a year earlier, while JPMorgan's rose 5 percent to $12.1 billion. Still, both of those results matched analysts' estimates, and Bank of America's $10.3 billion fell short. Analysts including Stemm predict BofA will be among the biggest beneficiaries of higher rates.
"While the recent rise in interest rates came too late to impact fourth-quarter results, we expect to see a significant increase in net interest income in the first quarter of 2017," Bank of America Chief Financial Officer Paul Donofrio said in a statement.
Better Borrowers
JPMorgan said it's well positioned to benefit from the most recent rate increase and that net interest income will be up "modestly" in the first quarter compared with the fourth.
The median estimate of economists surveyed by Bloomberg calls for two more Fed rate hikes this year, and another two by mid-2018. The central bank raised the rate to a range of 50 to 75 basis points in December.
Better-than-expected credit costs helped banks burnish fourth-quarter earnings. All three firms set aside less money than analysts expected to cover bad loans as consumers managed their finances and as oil prices stabilized, potentially helping borrowers in that industry keep up with debts.
Read more on consumers: Sentiment in U.S. Hovers Near 12-Year High in January
The three banks' provisions totaled $2.44 billion, or about $800 million less than analysts had estimated. JPMorgan led the trio with $864 million in loan-loss provisions, $509 million better than analysts surveyed by Bloomberg.
"Loan losses have been at trough levels and they can't stay here forever," Stemm said. "We and other analysts were baking in a slow move toward normalization and you really didn't see any of that happen, and in fact it got better."
Citigroup Inc., Goldman Sachs Group Inc. and Morgan Stanley are set to report quarterly earnings next week.
Avoiding Losses
A year ago, investors worried slumping oil prices would create billions of dollars in losses for the largest banks. But crude prices have roughly doubled since a February low. JPMorgan said that in the fourth quarter the firm was able to draw back funds it had once set aside for potential losses in its oil and gas portfolio.
The financial industry seems to have avoided the worst of it, Stemm said.
"The concerns were elevated almost exactly a year ago from today, and it appears that a lot of those concerns probably won't come to fruition," she said. "Some of that money they are flowing back into earnings and that's just indicative of the change in energy markets."
Before it's here, it's on the Bloomberg Terminal.
LEARN MORE