Australia's Health Minister Ley Resigns Amid Expenses Scandal
By
Turnbull announces overhaul of entitlements for lawmakers

Saga has proved distraction for Turnbull's government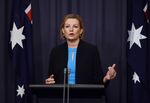 Australia's Health Minister Sussan Ley resigned Friday amid an investigation into her travel expenses, as Prime Minister Malcolm Turnbull pledged to overhaul entitlements for lawmakers.
"We should be as careful and as accountable with taxpayer's money as we possibly can be," Turnbull told reporters in Sydney as he announced Ley's resignation. "The Australian people are entitled to see we are spending it wisely."
The opposition Labor Party had called for Ley to stand down, amid reports she took more than a dozen taxpayer-funded flights to Australia's Gold Coast tourist strip where she and her partner own properties. She stepped aside from ministerial duties earlier this week, yet pressure mounted for her to quit amid reports she took charter flights on routes where commercial flights are available.
The saga has proved a distraction for Turnbull's government, which won elections last year with a razor thin majority and is trailing Labor in opinion polls.
Before it's here, it's on the Bloomberg Terminal.
LEARN MORE