Abe's Soft Power Play Wins Him Breakfast in Duterte's Home
By
Japan leader is the first leader to visit Duterte's bungalow

Abe pledged 1-trillion-yen in loans, investment over 5 years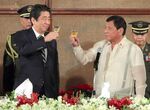 Japan Prime Minister Shinzo Abe sat for breakfast Friday at the modest home of Rodrigo Duterte in Davao, making him the first national leader to set foot in the Philippine president's green bungalow.
Duterte served local rice cakes and mung bean soup to Abe. After breakfast, the two leaders met with business executives, and Duterte named an endemic Philippine eagle "Sakura" (cherry blossom) in honor of Abe.
The personal touch shows Abe's determination to maintain ties with the Philippines as Japan competes with China for business deals. Security ties between the Southeast Asian nation and the U.S. have deteriorated under Duterte, and with China growing increasingly assertive in the region, Abe is seeking to convince his counterpart to stick with Japan and the U.S.
After a summit in Manila on Thursday, Abe said there is a link between the territorial spats in the South China Sea and regional peace, adding that he affirmed with Duterte the importance of not militarizing the disputed waters. Sure to strengthen the foundations of Abe's relationship with Duterte is that unlike U.S. and European leaders, he has refrained from criticizing Duterte's drug war that has so far seen about 6,000 people killed.
Read Tillerson's comments on the South China Sea here
"Abe is using an exquisite combination of subtle and personal diplomacy, pro-actively reaching out to Duterte who has maintained very close ties with Japan while recalibrating relations with America and China," said Philippine-based political analyst Richard Javad Heydarian. "Abe will likely try to convince Duterte to be wary of China and restore ties with America" under Donald Trump.
Duterte visited Tokyo in October, days after announcing in Beijing a foreign-policy pivot to China, away from the U.S. Military ties between Tokyo and Manila appear solid, with the countries carrying out a small joint naval exercise near Subic Bay last week.
Funding, Trade
Abe pledged on Thursday to provide 1 trillion yen ($8.7 billion) in funding and investment to the Philippines. Japan is the Philippines' largest provider of aid, a major source of remittances and was the second biggest source of foreign investment in 2015 (after the Netherlands). Total trade between the countries was around $15.9 billion, about half that of the shipments between the Philippines and China.
Bonji Ohara, the director of policy research at the Tokyo Foundation think tank, said that a tug-of-war between Tokyo and Beijing over business with the Philippines wouldn't be meaningful.
"I don't think the Philippines has any intention of picking one side over the other," said Ohara, who also served as a naval attache at Japan's embassy in Beijing. "President Duterte seems to have a favorable view of Japan, which makes it easier for Japan to act. Of course they would welcome investment from Japan -- they may not necessarily want to rely exclusively on China."
Asia Swing
The Japanese premier's trip is part of a week-long swing through Asia, where he'll also hold summits with the leaders of Indonesia, Australia and Vietnam. Japan remains a laggard relative to China. In the decade through 2015, Japanese trade with the six largest economies in the Association of Southeast Asian Nations, or Asean, increased by 27 percent, while China's trade more than tripled.

A visit to the private residence of a Philippine leader by a counterpart is "virtually unprecedented," according to Manolo Quezon, grandson of a former Philippine president who worked in the previous administration.
Duterte had warm words for Abe during a toast to the Japanese leader on Thursday.
"In Tokyo, I said that Japan deserves its own rightful place in the constellation of the Philippines' friends," Duterte said. "Tonight, let me reiterate that Japan is a friend closer than a brother. That means that Japan is a friend unlike any other."
— With assistance by Ditas B Lopez, Clarissa Batino, Cecilia Yap, Norman P Aquino, and Isabel Reynolds
Before it's here, it's on the Bloomberg Terminal.
LEARN MORE