A $267,000 Sports Car Got Cheaper With Brexit -- If You're Irish
By
Mercedes cuts Irish new car prices by 10% to halt U.K. imports

Irish car buyers, driving on left, exploit pound's decline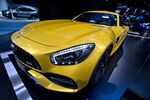 Brexit just cut the cost of that dream sports car. As long as you live in Ireland.
For Mercedes-Benz buyers, driving on the same side of the road as the U.K. while using a different currency comes with a new perk. The company in Ireland is reducing new car prices by 10 percent because of Brexit, a move it says is designed to support distributors after the slump in the pound made U.K. imports cheaper. At 14 Irish dealerships, the top-of-the-range Mercedes-AMG GT S now costs 225,000 euros ($240,000), saving about 25,000 euros.
"Like the U.K., Ireland has right-hand drive, plus it has the euro," said Ashley Winston, who sources cars on request across the U.K. from his London base. "So Irish drivers are almost uniquely placed to take advantage of Brexit."
Ireland's historical, economic and geographical ties with the U.K. have made Britain's decision to leave the European Union one of its biggest ever foreign-policy challenges. Any longer-term clouds over trade and border controls at least have a short-term silver lining: Irish consumers are getting things a little cheaper after the pound fell 12 percent against the euro since the June vote.
The number of used private cars imported and licensed in December more than doubled to 6,357, the Irish statistics office said on Thursday. They mainly come from across the Irish Sea before being taxed and registered.
Mercedes, part of Daimler AG and the world's most-popular brand of luxury car last year, said decreasing prices across its model range already is helping sales in January. It's been running radio ads trying to tempt Irish drivers.
The price cut in "response to Brexit –- and the impact it was having on sales of new and used cars in Ireland as a consequence of the drop in the value of sterling, which in turn has increased the level of grey imports –- has had a positive impact," Ciaran Allen, sales manager at Mercedes-Benz Passenger Cars in Ireland, said in an e-mail on Thursday.
Read More: A Guide to the Year's Biggest Divorce
In Sligo, in the northwest of Ireland, car dealer Kevin Egan acquired the domain name Brexitcars.ie immediately after the vote to exit the EU. The site says he bought his stock at the "new, favorable sterling rates" and also carries warnings about buying a car across the Irish border, such as the lack of after-sales care and issues around warranties.
"There's a perception that the U.K. is so much cheaper," said Egan, who employs 19 people after opening his own business following the closure of the dealership he worked in 2009. "The message was: 'before you go, ring us'."
Pricey Macs
It's in contrast to what British consumers have been facing. Prices in the U.K. have been creeping up for everything from cars to computers. There was a high-profile spat between Unilever and supermarket chain Tesco Plc over the cost of a jar of marmite, a staple of British households. Then Apple Inc. raised the price of its Mac Pro computers by 20 percent and Sweden's Electrolux AB put up what people would have to pay for appliances.
Even with the Mercedes price cuts, it's still more expensive to buy cars in Ireland. The Mercedes-AMG GT S costs 111,495 pounds ($136,330) in the U.K., according to the car company's online catalog. In part, the difference is explained by higher tax rates in Ireland, and drivers importing cars have to pay the difference.
Still, the Irish inquiries keep coming to Winston in London. He said his company is preparing to deliver a 75,000-pound used Volvo to a client in Dublin.
"I was despairing when the Brexit result came through," he said. "Then, an Irish client said this is going to be great, you are going to get lots of business from us. He was right. Brexit hasn't been so terrible after all."
— With assistance by Peter Flanagan
Before it's here, it's on the Bloomberg Terminal.
LEARN MORE