U.S. Stocks Decline With Banks as Nasdaq Ends Seven-Day Streak
By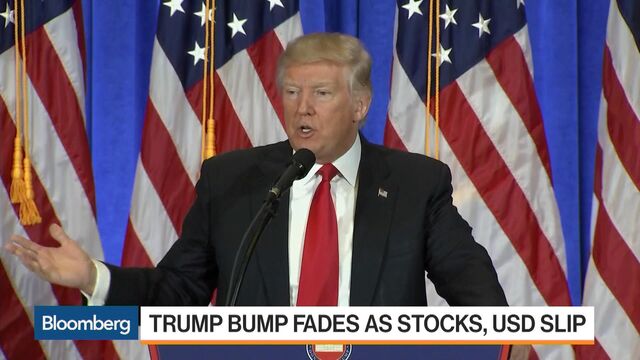 U.S. stocks declined as investors assessed President-elect Donald Trump's comments on healthcare and imports during his first press conference since the election. Semiconductor shares retreated amid declines of 2.1 percent in Micron Technology Inc. and 3.9 percent for Advanced Micro Devices.
The S&P 500 index lost 0.2 percent to 2,270.44 at 4 pm. in New York after adding 0.3 percent on Wednesday. Biotech shares climbed, reversing earlier losses, one a day after Trump said the industry needed "more competitive drug bidding." Financial shares slid as the yield on 10-year Treasuries fell.

The Dow Jones Industrial Average, which has hovered below the 20,000 mark since mid-December without crossing it, lost 0.3 percent to 19,891.00 

The Nasdaq Composite Index lost 0.3% after climbing for seven straight sessions to records

7 of 11 sectors fell, led by financial and technology shares
Banks down 0.7% with 10-year yield down to 2.358% from 2.372%; technology stocks fall after analysts lowered estimates on Apple and Goldman Sachs Group Inc. expressed caution on semiconductors
Health-care stocks little changed with Nasdaq Biotech Index up 0.4% after reversing earlier losses of as much as 1.1%
VIX up 2.5% for just second advance in eight sessions
The U.S. dollar sank against all 16 of major peers on Thursday as Trump's news conference disappointed investors who were expecting more comments on his economic-stimulus plans
Trump reaffirmed a campaign promise to impose a significant tax on U.S. companies that shift production overseas. For Neil Dwane, global strategist at Allianz Global Investors, if the border tax is enacted, and spurs a 10 percent rally in the dollar, it may lead more companies to relocate operations back in the U.S. He told reporters in Hong Kong that large importers such as Wal-Mart Stores Inc. would be "badly affected"
EARNINGS:

Pre-market Friday: BlackRock (BLK), First Horizon National Corp (FHN), Bank of America Corp (BAC), PNC Financial Services (PNC), First Republic Bank (FRC), JPMorgan Chase (JPM), Wells Fargo (WFC)
For related equity market news
Before it's here, it's on the Bloomberg Terminal.
LEARN MORE