U.S. Intelligence Chief Tells Trump He's Dismayed by Leaks
By
President-elect derides publication of unverified spy memo

Clapper said leak likely didn't originate from spy agencies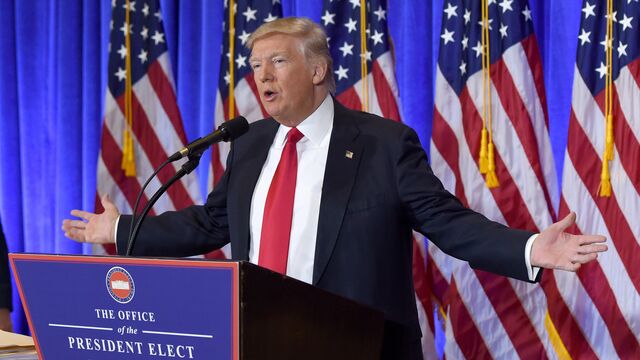 U.S. Director of National Intelligence James Clapper said he has told Donald Trump that the leak of a classified report that details unsubstantiated claims that Russia has compiled damaging information on the president-elect probably didn't come from U.S. spy agencies.
Clapper said in a statement he talked to Trump Wednesday following a press conference where Trump suggested that the intelligence community may have released an unverified dossier detailing compromising allegations about his personal and financial life in retribution for recent criticism and skepticism he's levied toward the spy agencies.
"I expressed my profound dismay at the leaks that have been appearing in the press, and we both agreed that they are extremely corrosive and damaging to our national security," Clapper said.
The dossier came to light after U.S. intelligence officials provided Trump and President Barack Obama with a summary of the material as an annex to a briefing on Russian government attempts to meddle in the U.S. presidential election by hacking Democratic Party computers and leaking internal e-mails.
Trump rejected the reports as false, and said Clapper did as well during their phone call.
"James Clapper called me yesterday to denounce the false and fictitious report that was illegally circulated," Trump said in a Twitter post Thursday. "Made up, phony facts. Too bad!"
During a press conference on Wednesday, Trump accused intelligence agencies of leaking the report, likening them to Nazi Germany.
"I think it was disgraceful -- disgraceful that the intelligence agencies allowed any information that turned out to be so false and fake out," Trump said. "I think it's a disgrace, and I say that -- and I say that, and that's something that Nazi Germany would have done and did do."
Clapper said the pair discussed the document and that he emphasized it didn't originate in the U.S. intelligence community. He also said he didn't believe the leak of the dossier, published Tuesday by BuzzFeed, came from U.S. intelligence sources, and that the administration didn't rely upon it when reaching its conclusions about Russian culpability for the hack and release of Democratic e-mails.
Clapper did indicate that he had briefed policy makers on its existence, however, saying he was obligated to ensure they "are provided with the fullest possible picture of any matters that might affect national security." But, Clapper said, the intelligence community hadn't made any judgment on whether the claims within the document were reliable.
Trump for the first time Wednesday said that he agreed with the conclusion that Russia likely hacked the Democratic National Committee and John Podesta, the chairman of Hillary Clinton's campaign.
— With assistance by Toluse Olorunnipa
Before it's here, it's on the Bloomberg Terminal.
LEARN MORE