U.S. Bank Stocks May Rise 50% During Next Three Years, Mayo Says
By
Cost cuts, capital strategies will boost shares' value

ROE will exceed cost of capital by next year, analyst says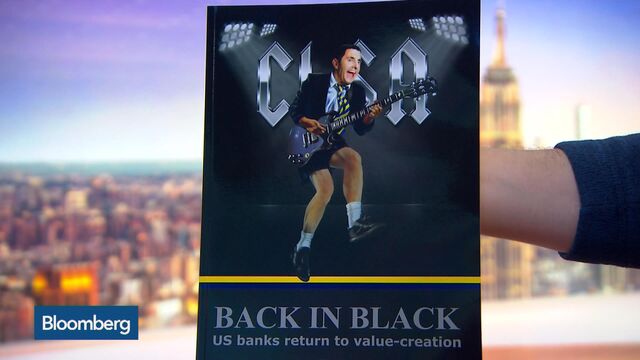 U.S. bank stocks may rise as much as 50 percent during the next three years as lenders cut costs, get better at responding to post-crisis capital rules and persuade investors the industry is safer, according to Mike Mayo, an analyst at CLSA Ltd.
By 2018, banks will generate returns on equity that exceed their cost of capital, Mayo said in an interview Thursday on Bloomberg Television. His view on bank stocks doesn't assume any benefit from President-elect Donald Trump's vow to roll back regulations.
"Banks, for the first time in a decade, should transition from value destruction to value creation," said Mayo, who issued a special report on the industry Jan. 3. "Banks will earn the cost of capital, and if they earn the cost of capital, which we think they will, bank stocks have another 50 percent to increase over the next three years."
As cost cutting yields results and management learns the best assets to hold in response to higher capital requirements, ROE should climb to 11 percent for the industry from 9 percent, he wrote in his report. That should propel stock prices higher, according to Mayo, even after a 22 percent surge in the KBW Bank Index since Trump's election victory on Nov. 8.
Before it's here, it's on the Bloomberg Terminal.
LEARN MORE