CIA Nominee Pompeo Put on Defense Over Data-Gathering and Russia
By and
Pompeo says policymaker,intelligence agency roles different

Congressman was vocal critic of 'blunting' surveillance powers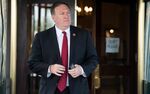 Representative Mike Pompeo was put on the defensive about his previous stances on surveillance and intelligence collection as he sought to reassure senators that he can shift from outspoken policymaker to objective spy chief if confirmed as President-elect Donald Trump's CIA director.
Pressed repeatedly on his past statements that the U.S. needs to collect more data on Americans and to clarify his position on torture, Pompeo testified at his confirmation hearing Thursday that his outlook would change if he leads the spy agency. He also outlined differences with incoming National Security Adviser Michael Flynn over objectivity at the CIA and with Trump himself, calling Russia one of the top national-security threats to the U.S.
"You've said, let's get back into the business of collecting all of this metadata," Democratic Senator Ron Wyden of Oregon told Pompeo, asking him to clarify what kind of financial and "lifestyle" information he was referring to in a January 2016 op-ed article on the issue. Pompeo responded that he knew current law banned widespread collection of metadata -- an activity previously undertaken by the National Security Agency, not the Central Intelligence Agency -- and said "we will not engage in unlawful activity."
"I still continue to stand behind the commitment to keep Americans safe," Pompeo said in his testimony before the Senate Intelligence Committee. He added that ignoring open sources of information, such as Facebook posts, to identify threats would be "grossly negligent."
Nuclear Capabilities
Citing an array of risks led by terrorism against the homeland, Pompeo told senators that the U.S. faces "a deteriorating global picture." He named North Korea, China and Russia as among the biggest state-level threats to U.S. interests, noting their nuclear capabilities.
As they have done with other Trump nominees, senators from both parties pressed Pompeo to say whether he agreed with intelligence assessments that Russia hacked and leaked documents to disrupt last year's presidential campaign, a months-old finding that Trump accepted only after receiving a personal briefing last week from the director of national intelligence. Pompeo said he did agree, adding that he had "no doubt" that Russian President Vladimir Putin would look favorably upon the results of Moscow's work.
"I am very clear-eyed about what that intelligence report says," Pompeo said, adding that as agencies gather more facts on Russian election interference, he will continue to relay that information to the president and Congress.
As debate over Russia's role in hacking the campaign heated up in recent weeks, Trump demanded that he receive less intelligence analysis, and more raw data, to help guide his decisions and ensure his briefings aren't politicized. Pompeo was asked whether he agreed with Flynn that intelligence work had become politicized. "I have not seen that," he responded, adding that the "spirited warriors" at the CIA mostly just want their work to be out of the media limelight.
Questioned about whether he viewed WikiLeaks -- which was the basis of a story he tweeted in July 2016 -- as a legitimate source of information, he said he "never viewed it as a credible source of information for the U.S. or for anyone else."
Before being tapped by Trump for the CIA post, the Kansas lawmaker was best known for his outsized role criticizing Hillary Clinton's response to a 2012 terrorist attack on a diplomatic outpost in Benghazi, Libya, while she was secretary of state. Even on the highly partisan "Benghazi Committee," Pompeo drafted his own conclusions separate from the findings of the Republican majority.
For a QuickTake Q&A on the U.S. confirmation process, click here
Reviewing the landscape as a House member in January 2016, he wrote in the op-ed that the intelligence community "feels beleaguered and bereft of political support."
Pompeo sought to convince the lawmakers that he would steer the CIA to "aggressively pursue collection operations and ensure analysts have the time, political space and resources to make objective and sound judgments."
Senator Mark Warner of Virginia told Pompeo he's worried about morale among intelligence officers after repeated public criticism from Trump.
"I will need your public assurance that you will always seek to provide unbiased and unvarnished and timely intelligence assessments to the president, his Cabinet, his advisers, and to the Congress," Warner, the top Democrat on the committee, said at the start of the hearing. Independent analysis is needed "even when it may be inconvenient or uncomfortable."
Pompeo told senators he wouldn't authorize interrogation techniques outside the scope of what's permitted in the Army field manual, a reference to waterboarding and other forms of torture.
Guantanamo Bay
Civil and human rights groups, including the American Civil Liberties Union and Amnesty International, have raised concern over Pompeo's support for expanded surveillance and his opposition to closing the Guantanamo Bay, Cuba, detention facility. Still, his nomination attracted some bipartisan support.
"He's a very bright guy. He's a hardworking guy. I think he has the capability of being a good CIA director," California Representative Adam Schiff, the top Democrat on the House Intelligence Committee, said in an Nov. 18 interview with MSNBC. Pompeo can also be "very partisan" but "he will need to set that aside to be an effective CIA chief, he is going to be strictly a political non-partisan," Schiff added.
After the public hearing, senators recessed ahead of a closed-door, classified hearing with Pompeo.
Before it's here, it's on the Bloomberg Terminal.
LEARN MORE