It's the Drug Industry's Turn to Tremble Before Trump
By , , and
Biotech, drug stocks get hit: 'Well, that party ended fast'

President-elect calls for lower prices but offers few details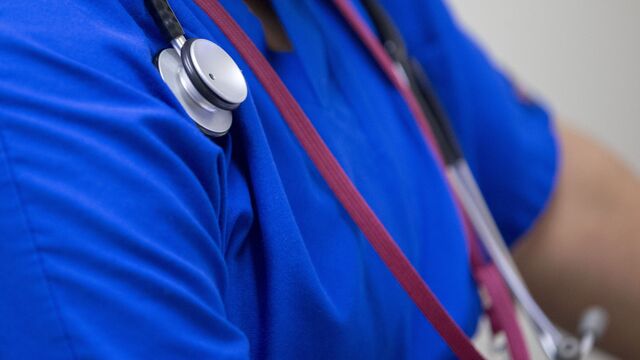 In a hallway of a San Francisco luxury hotel, investors huddled around a computer screen watching dozens of drug stocks plummet as President-elect Donald Trump lit into pharma companies, declaring that "they're getting away with murder." As for Obamacare, he said, "it'll be repeal and replace."
The mood was shock and disbelief as thousands of health-care investors, bankers and executives gathered at the cramped Westin St. Francis Hotel. Many had paid thousands of dollars to attend the industry's biggest investing get-together of the year, the four-day J.P. Morgan Healthcare Conference. And they had spent the last days speculating about what policies Trump would push in health care. Then the bomb dropped.
"It's horrible," David MacCallum of Outer Islands Capital, a small hedge fund in New York, said over the phone to his wife as he watched the tickers tilt downward.
On Wednesday, Trump promised to force drug and biotechnology companies to bid for the government's business, and reiterated his demand to do away with Obamacare. "We're the largest buyer of drugs in the world and yet we don't bid properly." He promised the government would "save billions of dollars."
Populist Streak
Trump's attack on the industry is just the latest turn in a populist governing philosophy where he's gone after companies that provide high-value goods and services to the government, like defense manufacturers, or major employers, like car manufacturers. Drug stocks jumped after Trump's election, as investors bet he would be friendlier to the industry than his opponent, Democratic candidate Hillary Clinton.
"Well, that party ended fast," John Schroer, sector head of health care at Allianz Global Investors, said as the Nasdaq Biotechnology Index fell 3 percent and the Standard & Poor's 500 Pharmaceuticals, Biotechnology & Life Sciences Index fell 1.7 percent. Both indexes extended their losses on Thursday.
Trump offered few concrete details on his plans for U.S. health care and, as is his habit, may very well still change his mind. Still, he has begun to outline broad priorities for an industry that's more closely tied to the government than any sector other than defense. The government is a customer for its drugs and services, a regulator of its new products, and an organizer of its markets. Medicare, the U.S. health program for the elderly, doesn't currently have the power to directly negotiate prices with drugmakers.
"To repeal and replace Obamacare and not have a conversation about drug pricing seems not like a reasonable prospect," Trump senior adviser Kellyanne Conway said in an interview on Bloomberg Television. "We hear from people daily that they feel crushed by the costs of the drugs they need." She called Trump the right person to lead that effort and predicted he could bring along Republicans who might otherwise be considered friendlier to the industry.
Subsidizing the World
At the same time, Trump has identified a legitimate concern for consumers. U.S. taxpayers and patients essentially subsidize the drug industry. They pay higher prices for drugs than anywhere else in the world. Yet there is also a huge payoff for the system, and not just for companies' bottom lines. Those subsidies have also made the U.S. a cradle of biopharmaceutical innovation.
"As a country, I don't think we're really there yet that we want some of these innovations to not be available to people," said Craig Garthwaite, associate professor of strategy and co-director of the Health Enterprise Management Program at Northwestern's Kellogg School of Management.
While Trump has the power to move markets with a single remark, his power to move Congress is less sure. Having the government intervene and negotiate prices against private industry has long been anathema to pro-business Republicans -- including Trump's cabinet pick on health, Representative Tom Price -- and the drug industry is almost certain to mount a blistering lobbying and advocacy campaign against such a policy. On Obamacare, a breakaway group of moderate Republican senators have said they're not interested in repealing the law until a replacement policy is written -- which could take months, or years.
Waiting on Trump
The uncertainty Trump has thrown into the sector has ground some strategic plans to a halt. There's a sense among investors that until policies are settled that will affect tax rates, government payments and how health markets are organized, little can happen in the industry. 
"We've never seen anything like this," Mario Molina, chief executive officer of Molina Healthcare Inc., said in an interview on Tuesday, before Trump's remarks. The company runs health plans that cover people under Obamacare. "Usually you come to San Francisco for this meeting, and there is lots of chatter about potential deals, and you aren't seeing that," he said. "Everything is on hold until we find out what the government intends to do -- and it seems to change every day."
Question After Question
At a panel with investors, Mylan NV CEO Heather Bresch faced question after question about Trump's comments.
"If anyone is walking away from the conference, thinking business as usual, that is a mistake," Bresch said. "We've got to re-look at the model" by which the industry prices drugs, she said. Mylan has been one of the companies most criticized on drug pricing, after the drugmaker repeatedly raised the price of EpiPen, its shot for dangerous allergic reactions.
Other executives were still adjusting to their new reality, wishing they could just be left alone by the new president.
"Great," David A. Giljohann, CEO of Exicure, a biotechnology startup, said after being informed of Trump's comments. "Why can't politicians just stay out of this?"
— With assistance by Drew Armstrong, and Anna Edney
Before it's here, it's on the Bloomberg Terminal.
LEARN MORE