Tata Names CEO of Asia's Biggest Software Exporter as Chairman
By , , and
Tata Consultancy's Chandrasekaran replaces ousted head Mistry

CFO Gopinathan to succeed Chandrasekaran as TCS's chief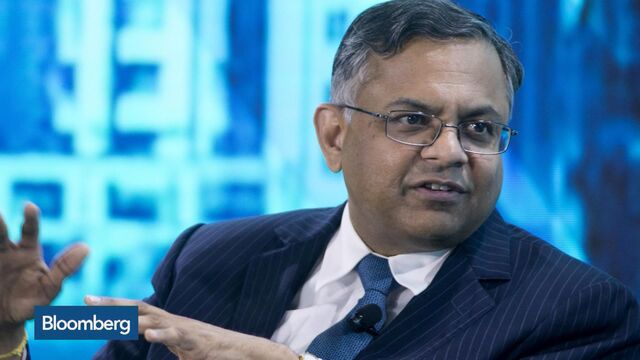 Tata Group named the head of its biggest unit to be the next leader of India's largest conglomerate, ending a near three-month search to replace ousted Chairman Cyrus Mistry.
Tata Consultancy Services Ltd. Chief Executive Officer Natarajan Chandrasekaran, 53, will be chairman of group holding company Tata Sons Ltd. from Feb. 21, according to exchange filings. The new boss takes charge as Mistry continues to battle his removal in court. Chandrasekaran, or Chandra as he is called, has headed Asia's biggest software exporter since 2009. Under his leadership, the stock has tripled and profits have quadrupled, making the business India's biggest company by market value.
The appointment expands Chandrasekaran's role to lead a conglomerate with dozens of divisions with businesses ranging from making luxury Jaguar sedans to writing code for Citigroup Inc. and selling table salt. The executive will face the challenge of restoring stability to a group roiled by the bitter public fight between scion Ratan Tata and Mistry, the biggest corporate battle India has seen in years.
"He builds relationships and this will come in useful when he deals with the heads of various companies at Tata Sons," S. Mahalingam, former finance chief at Tata Consultancy, said in an interview. "He won't be a micro-manager."
The new chairman will also have to work well with Ratan Tata, as he re-asserts his dominance on the group, according to J.N. Gupta, co-founder and managing director of Stakeholder Empowerment Services, a proxy advisory firm. Chandrasekaran, a "Tata lifer," has been with the Tata group since 1987, according to the statement.
To read about the challenges Tata faced in finding a replacement, click here
"Tata Sons met today with a single point agenda to name Chandra," Ishaat Hussain, a director at the parent company and chairman of Tata Consultancy, said by phone on Thursday. "I strongly supported the candidature of Chandra."
The Tata Sons board will decide on Chandrasekaran's tenure later, spokesman Debasis Ray said. Mistry, who is still a director on the board, didn't attend Thursday's meeting, he said.
Tata Consultancy named Chief Financial Officer Rajesh Gopinathan to replace Chandra, the software developer said in a statement on Thursday.
Chandra is on the board of India's central bank and is an avid marathoner. He led Tata Consultancy's Latin America and Japan expansion as the company sought to reduce its dependence on the U.S. Chandra joined Tata Consultancy after completing his post-graduation in computer engineering in India.
To read more about Mistry's petition, click here
One challenge for Chandra will come in the shape of Mistry's accusations of poor governance within the group. The former chairman has filed a case in the National Company Law Tribunal asking the court to restrain Ratan Tata from attending board meetings and appoint an administrator to manage Tata Sons.
In an e-mail to directors after his dismissal, Mistry said the group may face 1.18 trillion rupees ($17 billion) in writedowns over time because of five unprofitable businesses. He cited Indian Hotels Co., Tata Motors Ltd.'s passenger-vehicle operations, Tata Steel Ltd.'s European business, and the group's power and telecommunications units as "legacy hotspots," according to the e-mail.
"The first challenge of a new chairman is setting at rest all the controversies that have arisen in the removal of Cyrus Mistry," said Rishikesha T. Krishnan, a professor at the Indian Institute of Management in Indore. "Secondly, there are large companies and investments in the Tata portfolio that need urgent attention."
— With assistance by George Smith Alexander
Before it's here, it's on the Bloomberg Terminal.
LEARN MORE