Stocks Are No Longer the Most Actively Traded Securities in Stock Markets
By
Three out of 15 most traded securities are single stocks: CS

Total assets in passive funds exceed 40 percent of all assets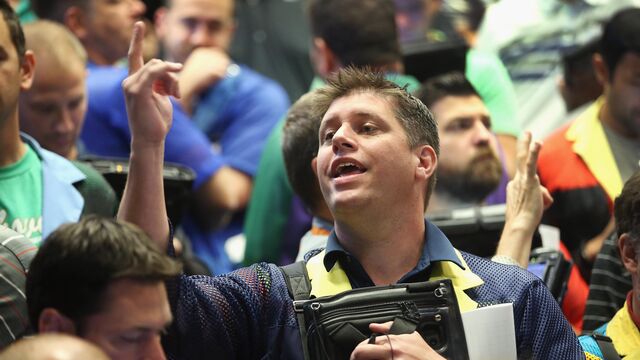 Stock exchanges are increasingly getting out of the stock trading business.
As weird as it may seem, individual shares no longer are the most actively traded securities in the market. That distinction goes to exchange-traded funds, which took in a record $400 billion in the past year to become a $3.8 trillion industry.
"What we are seeing is investors are increasingly using ETFs as a replacement for individual stocks," said Todd Rosenbluth, director of ETF and mutual funds at CFRA, an independent research provider. "That happened in 2016 and it's going to continue in 2017 and beyond."
Each day, a vast majority of trades are in ETFs, such as the SPDR Financial Select Sector Fund, or XLF, which has an average daily volume of 105 million shares, making it fifth-most traded fund. That's 24 percent more than the second-most traded stock, Chesapeake Energy Corp. Of the 15 most heavily traded securities in 2016, only three were stocks, according to volume data compiled by Credit Suisse Group AG.

The growing heft of the products comes as the number of new U.S. listed companies declines considerably. Meanwhile, there are nearly 2,000 ETF listings, an all-time high, Credit Suisse data show.
In truth, daily volume has increased among both ETFs and stocks, but the growth hasn't been equal. ETF volume rose 50 percent over the last two years, compared to 7 percent for individual shares, according to Credit Suisse. They note that much of the gains have come from non-equity funds, such as commodity-based ETFs, which have seen volume balloon more than 170 percent since 2014.
"There's been a shift to passive management, and people like indexing," Ana Avramovic, a U.S. strategist at Credit Suisse, said by phone. "The most important thing is the fact that the other asset classes are really driving a lot of this growth."
'Worse Than Marxism'
To be sure, when measured by U.S. dollar volume more stocks fall within the top -- some volatility products that are built to be traded intraday at a low price, which overstates their importance. Still, nearly half of the top 20 traded securities by value are ETFs, including the top two, according to Eric Balchunas, ETF analyst at Bloomberg Intelligence.
That said, the most-traded security is a stock: 108 million shares of Bank of America Corp. change hands on average per day, Credit Suisse found. Right behind is the SPDR S&P 500 ETF, or SPY, with 105 million shares on average. But Bank of America doesn't have much company as only two other stocks are among the 15 most traded securities, Chesapeake and Sirius XM Holdings Inc.
These figures have fueled criticism from active managers such as Sanford C. Bernstein & Co., which noted that passive investing is "worse than Marxism." Goldman Sachs Group Inc. echoed a similar sentiment, arguing that ETFs and other passive vehicles increase the likelihood that equity shares move in tandem. But of course Goldman offers its own collection of ETFs, which have a combined $2.9 billion in assets under management
Credit Suisse's Avramovic dismisses Goldman's criticism, noting that the lion's share of ETF expansion hasn't come from stocks but instead from products tied to commodities and volatility measures, such as the Chicago Board Options Exchange SPX Volatility Index, or VIX. As the ETF market matures, these areas will become a larger slice of the pie.
"To be clear, equity ETFs still account for the bulk of ETF trading," she wrote in the report, "but the growth is coming from ETFs on other asset classes."
Quotes from this Article
Before it's here, it's on the Bloomberg Terminal.
LEARN MORE