So Much for L.L.Bean Staying Out of Politics
The company tried its best—but because of a Trump tweet, those duck boots are in deep.
By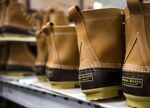 Just when L.L.Bean thought it was out of politics, they pulled it back in.
Faced with boycott threats from critics of Donald Trump, L.L.Bean did its best to distance itself from a $60,000 donation that the Federal Election Commission says Linda Bean, a member of the company's board and granddaughter of its founder, made to a pro-Trump political action committee.
Well, too bad. Those famous duck boots have waded deep into politics now.
Linda Bean, who owns a stake in the Maine-based maker of clothing and outdoor gear, went on Fox News on Thursday, slammed the group behind the boycott as "hardcore bullies," and said she has no plans to resign from the company's board.
Then the president-elect stepped in.
That may the last thing L.L.Bean wanted, after it responded Monday to the boycott effort by vehemently denying any political ties and pleading with shoppers to understand that it's not a partisan organization. "Simply put, we stay out of politics," Executive Chairman Shawn Gorman said in the statement.
A spokesman added at the time that it was "illogical and unfair" to link the company to the actions of one Bean family member. That spokesman did not immediately respond to a request for additional comment Thursday.
Shannon Coulter, the co-founder of the activist group, Grab Your Wallet, that urged the boycott, responded to Linda Bean's criticism Thursday by calling her "out of step" with the company's brand. "I truly feel for the company's leadership as they no doubt struggle to understand how best to cope with the negative attention this divisive individual continues to bring to L.L. Bean's brand and reputation," Coulter said in an emailed statement.
Whether L.L.Bean likes it or not, how people perceive it has been suddenly politicized.
And there's not much the company can do about it now, said Dorothy Crenshaw, founder of public relations firm Crenshaw Communications. She said she'd advise it not to say anything else, as the Trump-driven news cycle is usually quick to hop to the next uproar.
So what does an endorsement from the president-elect mean for a company?
Often when Trump tweets about a company, it's in a negative light—whether he's threatening Toyota Motors with taxes or declaring the New York Times a failing enterprise. This time, it was wholeheartedly positive, but even that can ding a brand's reputation.
A Trump product endorsement is by nature divisive. For some companies—especially if Trump's beliefs don't align with those of the company's customer base—it can be a real danger, said Crenshaw. 
"It's like a lightning strike," said Crenshaw. "It can do damage."
Before it's here, it's on the Bloomberg Terminal.
LEARN MORE