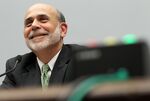 Central banking is kind of funny, as it turns out. 
In many ways, 2011 was a tough year for Fed policy makers: They were planning their exit strategy from a second round of quantitative easing, the global outlook was fraught, and the U.S. credit rating was downgraded. But that strife couldn't keep them from cracking jokes. Transcripts from 2011 meetings and conference calls record 317 instances of [laughter] coloring Federal Open Market Committee discussions.

Here are a few gems, in chronological order. 
Ben Bernanke, chairman at the time, got the humor started in January with a hat-tip to the Fed's nerdiness. 
"Now for the entertainment portion of our program, [laughter] the staffs of the Board and the Reserve Banks have prepared a special topic on structural unemployment."
Chicago Fed President Charles Evans, who still holds the post, also brought the laughs that month when he compared the economy to the Chicago Bears football team.
"This year, the Bears really weren't that great of a team—the fundamentals weren't really that good. But, somehow, things picked up, and they made the playoffs, and they made the championship game. Then, with all of the buzz in town, people got excited. And if you lost your discipline, you could sort of convince yourself that the Bears were really quite good. [Laughter]''
Then the FOMC turned 75 in March, and that was good material. Here's Bernanke again. 
"Our ever-alert staff has informed me that today is the 75th anniversary of the FOMC. The first meeting was in March of 1936. This is meeting number 725. If we keep going, we will eventually get it right. [Laughter] We would like to celebrate, but somebody has taken away the punchbowl. [Laughter]"
Even better fodder: the fact that Fed forecasts were never, ever right. Then-Kansas City Fed President Thomas Hoenig seized on that one in March. 
"When I became a member of the FOMC, I had a friend give me a crystal ball to use, and over the years it has done just about as well as our models.'' [Laughter] So feel free, if it would be any help to you."
Then there was the time in June that the Dallas Fed's then-President Richard Fisher made digs at then-Texas Governor Rick Perry and then-Miami Heat basketball player LeBron James in the same breath. He also directs his teasing at then-Cleveland Fed President Sandra Pianalto.
"I am going to dispense with my usual sunshine report about my Federal Reserve District, if only for fears that the governor of Texas will run around saying we've created 3 trillion percent of the jobs—[laughter]—in America, but with one exception. I want to say that whatever momentum President Pianalto has in her District is solely due to the fact that the Dallas Mavericks trashed LeBron James and the Miami Heat. [Laughter]"
But don't get the wrong idea here. Central banking isn't all fun and games. The committee didn't laugh once during their August conference call to plan for a potential U.S. debt downgrade. There were also long, humorless stretches as they debated the proper way to exit their mass bond-buying. This Bernanke comment from September may have drawn a chuckle, but it also summed up the situation. 
Arthur Burns once wrote a speech called "The Anguish of Central Banking." I can really relate to that. [Laughter]
Before it's here, it's on the Bloomberg Terminal.
LEARN MORE