Merkel Says Brexit Will Force EU to Confront Corporate Tax Rates
By and
'We all know that we need more harmonization,' Merkel says

German leader speaks in Luxembourg after meeting with Bettel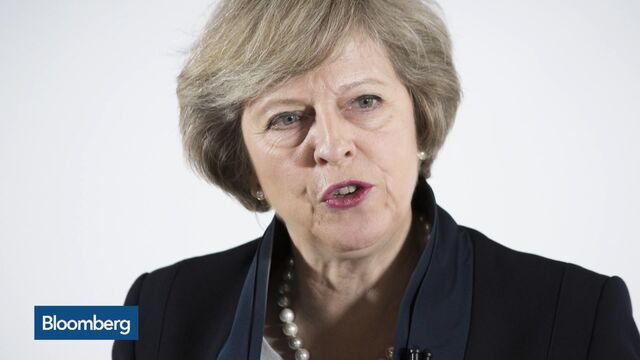 German Chancellor Angela Merkel said the U.K.'s divorce from the European Union will be a catalyst for the bloc to confront the thorny issue of corporate tax rates as it renews a push for a common agenda.
Saying that "we all know that we need more harmonization" across the 28-member EU, Merkel told reporters Thursday in Luxembourg, itself at the center of an EU storm over tax issues, that the topic will increasingly be a point of contention as Brexit negotiations loom.
"This will become more of an issue if we're talking about lower tax rates for example in the U.K.," Merkel said after meeting with Luxembourg Prime Minister Xavier Bettel as part of her first visit outside Germany during this campaign year. "That won't be a simple process."
With U.K. Prime Minister Theresa May's government hinting that it may use lower corporate tax rates as leverage in exit negotiations, Merkel signaled that the EU will have to move more quickly to seek common ground on corporate tax -- an area that some member states have guarded fiercely as a matter of national sovereignty.
The U.K. and Ireland have been at the vanguard of rejecting a common tax plan in the past, for fear that any such arrangement would open the door to violating sovereign decisions on rates that attract business. With the U.K. poised to exit the EU, the new push risks isolating Ireland.
Multinational Companies
A draft proposal from the European Commission in October foresees a single method for multinational companies to calculate income to avoid the cost of complying with different rules in each EU member states where they file a return.
The move coincides with a crusade to crack down on unfair tax treatment. The Commission last August slapped Apple Inc. with a record 13 billion-euro bill ($13.85 billion) in back taxes over arrangements with Ireland that it says weren't open to others. Luxembourg has also been in the legal cross hairs amid allegations it granted illegal state aid to some companies.
The German leader said she discussed with Bettel Luxembourg's "enormous efforts" toward compliance with the Organization for Economic Cooperation and Development.
Merkel said Germany's system of corporation taxation "is also extremely complicated."
The British government has pledged to reduce corporate rates to 17 percent by 2020 from 20 percent now. Advisers to the prime minister have floated the idea of bringing the headline rate down to as little as 10 percent, the Sunday Times reported in October.
— With assistance by Ian Wishart, and Jonathan Stearns
Before it's here, it's on the Bloomberg Terminal.
LEARN MORE