Mattis Vows to Embrace Allies, Diplomacy as Trump Defense Chief
By
Trump said his Pentagon nominee argued against waterboarding

Former Marine General faces confirmation hearing Thursday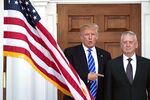 Retired General James Mattis will reaffirm U.S. support for its historic alliances and diplomacy if confirmed as President-elect Donald Trump's secretary of defense, a message aimed at assuaging concerns the country could step back from its leadership role in the world.
"We must embrace our international alliances and security partnerships," Mattis will tell members of the Senate Armed Services Committee at his confirmation hearing on Thursday, according to prepared remarks obtained in advance. "History is clear: nations with strong allies thrive and those without them wither."
Comments made by Trump on the campaign trail and since the election have raised questions about whether he would honor long-term U.S. commitments to alliances, including the North Atlantic Treaty Organization, at the same time he says he wants better relations with traditional adversaries like Russia.
While Trump has called for the U.S. to pull back from foreign entanglements -- criticizing the 2003 invasion of Iraq and praising Russia's intervention in the Syrian war -- Mattis has argued for a more assertive U.S. posture in the world.
'Mad Dog'
The 66-year-old Marine was hailed as "one of the finest military officers of his generation and an extraordinary leader who inspires a rare and special admiration of his troops" in a statement after his nomination by Armed Services Committee Chairman John McCain of Arizona. Short and wiry with a brush-cut haircut, Mattis was known as the "Warrior Monk," while Trump calls him by another nickname: "Mad Dog."
In a potential sign of his influence, Trump said soon after the election that the blunt-talking Mattis had caused him to rethink his campaign pledge to revive waterboarding, an interrogation tactic used against suspected terrorists that President Barack Obama had banned. "He said, 'I've always found, give me a pack of cigarettes and a couple of beers and I'll do better,"' the president-elect recounted to the New York Times.
The two men have also found common ground in their criticism of Iran and a nuclear deal reached by the Obama administration in 2015. Mattis has called the regime in Tehran "the single most enduring threat to stability and peace in the Middle East."
F-35 Costs
The former head of U.S. Central Command, Mattis's prepared remarks don't address over-budget Pentagon programs, such as Lockheed Martin Co.'s next generation F-35 jet, that Trump has singled out for criticism since winning election. But he does promise to "bring business reforms to the Department of Defense by instilling budget discipline and holding our leaders accountable," according to the remarks.
Mattis retired in 2013 after a 41-year career in the Marines that took him from rifleman to head of the U.S. Central Command. He will indicate in his testimony that he views a strong military as a catalyst for promoting effective diplomacy.
One reason Mattis may back U.S. alliances including NATO is because he's worked there: he led NATO's transformation office and rewrote -- along with former Army General David Petraeus -- the military's counterinsurgency field manual.
"I will work to make sure our strategy and military calculus are employed to reinforce traditional tools of diplomacy, ensuring our president and our diplomats negotiate from a position of strength," Mattis said.
One non-military question likely to come up during Mattis's Senate confirmation hearing is his role on the board of Theranos Inc., which has become embroiled in a scandal over faulty claims for its blood-testing technology. Henry Kissinger and George Shultz, former secretaries of state, also have been among the company's directors. Filings show that Mattis was paid at least $150,000 to serve as a director at the company.
For a QuickTake Q&A on the confirmation process, click here
In 2012, before the flaws in its technology were uncovered, Elizabeth Holmes, the company's founder and chief executive officer, asked Mattis, who was still in the military, to squelch a Pentagon reviewer's "blatantly false information" about the company, the Washington Post reported last year. Mattis declined to answer specific questions, the newspaper reported, but issued a statement saying he had "the greatest respect for the company's mission and integrity."
He may also face questions about the impact of his decision this month to step down from the board of General Dynamics Corp., the fifth-biggest U.S. defense supplier with $10 billion in contracts last year. As a result of his position, he'll likely have to recuse himself for at least a year from decisions involving the company, taking him out of the loop on billion-dollar decisions across the military services.
Because Mattis has only been retired since 2013, Congress must pass legislation waiving a law that bars appointing anyone as secretary of defense "within seven years after relief from active duty as a commissioned officer." The Senate Armed Services Committee plans to act on that legislation right after Thursday's hearing, and the House Armed Services Committee is scheduled to act on Thursday as well.
While members of both parties praise Mattis as a skilled and thoughtful military leader, some have expressed concern about exemptions from the law intended to preserve civilian control. Mattis gave a nod in his prepared remarks to the perceived need for the defense secretary to be a civilian.
"Civilian control of the military is a fundamental tenet of the American military tradition," he said. "Both the commander-in-chief and the secretary of defense must impose an objective strategic calculus in the national security decision-making process and effectively direct its activities."
— With assistance by Jennifer Jacobs, and Anthony Capaccio
Before it's here, it's on the Bloomberg Terminal.
LEARN MORE