Hong Kong's No. 2 Official Quits, Becomes Favorite for Top Post
By
Lam's resignation required before making chief executive bid

Race jolted by incumbent's decision not to seek second term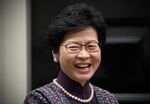 Hong Kong's No. 2 official, Carrie Lam, announced plans to seek the chief executive's post, a move buoyed by perceptions she's the person China prefers to lead a city wracked by political turmoil.
Lam, 59, said she told Chief Executive Leung Chun-ying on Thursday that she would step down as chief secretary and seek his job, if the government in Beijing approved. "There is only one reason for me to resign at this juncture," Lam told reporters. "I intend to prepare to contest in the upcoming chief executive election."
Lam has long enjoyed strong approval ratings in the former British colony despite steadfast support for her Beijing-backed and unpopular boss, who decided last month not to pursue a second, five-year term. That reputation makes her the favorite to succeed Leung in a March vote by 1,200-member election committee dominated by China loyalists.
The next chief executive will face sharp divisions over Chinese rule and whether the Communist Party is backsliding on its post-colonial promise to maintain the city's autonomy under the "one country, two systems" framework. Leung's hard-line approach has been blamed for inflaming tensions, including his refusal to meet with student leaders behind the mass Occupy protests in 2014 and ongoing efforts to oust as many as six opposition members from the Legislature, some of whom advocated independence.
Rival Bids
While the city's financial secretary, John Tsang, 65, has also tendered his resignation to mull a run, the central government hasn't yet accepted it. Other candidates include lawmaker Regina Ip, 66, a former security minister, and a former judge, Woo Kwok-hing.
More than 45 percent of people believed Lam had the best chance of winning the job, compared to 19.9 percent for Tsang, according to a Chinese University of Hong Kong poll of 1,024 residents published Thursday by the South China Morning Post. The poll had a margin of error of 3.1 percentage points.
Nonetheless, Tsang was the most popular contestant in a hypothetical five-way race including former Legislative Council President Jasper Tsang, who hasn't announced a bid. The financial secretary has support from 27.6 percent, versus 23.2 for Lam.
Occupy Talks
Lam, who had earlier planned to retire after her term ends June 30, was raised in a walk-up apartment in Hong Kong's Wan Chai district, and recalls doing her homework on the bed because she lacked a desk. While studying sociology at the University of Hong Kong, she showed an activist streak, supporting a group called the Yau Ma Tei boat people, and upon graduation, she joined the government.
In her four years as Leung's top deputy, she had a reputation for championing China's policy goals without inspiring the same animosity from the opposition. When protesters opposed to a China-backed election overhaul occupied swaths of the city two years ago, it was Lam who met with their leaders.
Although she gave no ground in the talks, she acknowledged the movement's support and avoided escalating the stand-off. She had previously handled upset citizens as development secretary from 2007 to 2012 when she had to persuade villagers to relocate.
Museum Dispute
Her reputation took a hit last month after announcing during a visit to Beijing plans to build a branch of the capital's Palace Museum with HK$3.5 billion ($450 million) from the Hong Kong Jockey Club. The surprise move prompted a backlash with lawmakers accusing her of failing to consult the public about the project or her choice of architect.
"People are beginning to worry about her working style," said Ivan Choy, a senior politics lecturer at Chinese University of Hong Kong. "There is no doubt that she is a very good civil servant and that she knows the system. But she is also willing to take advantage of loopholes" to push projects through, he said.
Lam's approval rating fell to 51.1 out of 100, the lowest since she became chief secretary in 2012, from 53.5 in December, according to a survey of 1,004 residents released Tuesday by the University of Hong Kong's Public Opinion Programme. That's compared with a mark of 41.3 for Leung and 60.2 for Tsang.
Lam said she go on leave starting Friday. Labor and Welfare Secretary Matthew Cheung will serve in her place from Friday, Leung said in a statement.
Before it's here, it's on the Bloomberg Terminal.
LEARN MORE