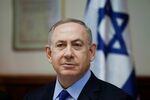 France brought representatives from more than 75 countries and international organizations, including U.S. Secretary of State John Kerry, to Paris on Jan. 15 for a conference on peace between Israelis and Palestinians. It was among the last opportunities for outside parties to help resolve the 69-year-old conflict between the two before U.S. President-elect Donald Trump, who promises to lean more heavily toward the Israelis than his country has traditionally, introduces a new tone to the discussion. One hitch: Neither the Israelis nor the Palestinians attended the conference.
1. Why did they skip it?
Prime Minister Benjamin Netanyahu says these sorts of international conferences are "rigged" against Israel, and that differences with the Palestinians can only be resolved through direct negotiations, as was the case when Israel worked out peace treaties with Egypt and Jordan. The French parley comes at a time when Israel is feeling snubbed by its most important ally, the U.S. In December, the U.S. broke from its usual practice of vetoing United Nations Security Council resolutions criticizing Israel and instead abstained on one disapproving of Jewish settlement in the West Bank, territory the Palestinians hope to make part of a future state. Why risk a chilly reception in Paris when Trump has tweeted that "things will be different" after he takes office Jan. 20? Departing from decades of U.S. policy, Trump has said he does not view Israeli settlements as an obstacle to peace. Because Israel said it wouldn't participate in the Paris conference, the Palestinians declined the invitation as well. Palestinian Authority President Mahmoud Abbas is scheduled to meet with French President Francois Hollande in the weeks after the conference to gauge any progress.
2. What did France hope to achieve?
Hollande acknowledged it might seem odd to hold a peace conference without the actual parties to the dispute, but said he wanted to signal international frustration with the stalemate in direct talks since 2014. To advance a resolution to the conflict, French diplomats have been trawling through 25 years of peacemaking archives to distill a program for international support of any treaty Israelis and Palestinians might eventually agree to. At a preparatory conference in June, the French set out a plan to strengthen the Palestinian economy and governmental institutions as well as finance a peace deal. Monetary compensation would likely be provided to Palestinian refugees and possibly to Jewish refugees from Arab lands and Israeli settlers who might be evacuated from the West Bank.
3. What were Palestinian hopes?
Following up on the Security Council resolution criticizing settlement building -- which passed 14 to zero -- Palestinians hoped the conference would produce more pressure on Israel. Hollande, in his remarks at the event, said a resolution to the conflict is threatened by Israeli settlement building. The Palestinians had also hoped the conference would help renew their push for full statehood recognition at the UN. They even suggest the conference might launch a resolution recognizing a Palestinian state that could be approved by the Security Council before Trump enters the White House. But French officials said they had no intention of taking the conclusions of the conference to the UN. Hollande said a peace agreement can only come about from direct talks between the two sides.
4. What would recognition of a state mean?
Already, 136 of the UN General Assembly's 193 members call Palestine a state, but that remains largely a symbolic term. Recognition in the 15-member Security Council would give greater legitimacy to the notion that Palestine is a real state. Security Council approval would require the acquiescence of the veto-wielding U.S., however, which says the terms of statehood must be negotiated directly with Israel. Without an agreement with Israel, Palestine may call itself a state but it lacks the requirements of one, notably control over its territory. Israel controls most of the West Bank's borders, roads and trade paths, as well as the air space above it.
5. How are Israelis and Palestinians getting along?
Though the last round of peace talks failed in 2014, Israeli and Palestinian military officials remain in constant touch to mitigate violence between the two sides. With some 400,000 Jewish settlers living amid 2.8 million Palestinians in the West Bank, contact is frequent and sometimes bloody there and in other places where the populations mix. More than 40 people have been killed by Palestinians in stabbing, shooting and car-ramming attacks in Israel and the West Bank over the past 15 months, and more than 230 Palestinians have been killed in the same period. In a January 2016 poll, just 43 percent of Israeli Jews said it was possible for two states to coexist peacefully, while two-thirds of Palestinians in a December survey said such a solution was no longer viable. At the same time, more than 50,000 Palestinians work in Israel and many Israelis and Palestinians interact amicably every day for business and commerce.
6. What stands in the way of a peace agreement?
Major stumbling blocks include where to draw borders, how to share Jerusalem, and the status of Palestinian refugees. In addition, internal divisions get in the way on both sides. Palestinians are split between the West Bank, which is governed by Abbas's secular Fatah party, and the Gaza Strip, where the militant Islamist Hamas movement rules. Fatah, which theoretically supports peace with Israel, and Hamas, which does not, have been negotiating a reconciliation for 10 years, with little evident progress. For Israel, a peace deal would likely require uprooting tens of thousands of settlers from the West Bank. That's a wrenching prospect for Israeli society that makes a peace deal hard to sell, especially to the those on the political right.
The Reference Shelf
Before it's here, it's on the Bloomberg Terminal.
LEARN MORE