Ex-Visium Trader Says Gottlieb Neglected Mismarking Warning
By
Witness testifies he went to feds after being ignored by firm

Lumiere on trial for scheming to inflate distressed-debt value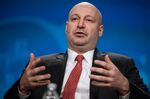 Jason Thorell said he became so concerned about a mismarking scheme at Visium Asset Management LP that he took his concerns to the company's founder, Jacob Gottlieb.
Thorell, a former junior trader at the firm, told jurors Thursday that his concerns were ignored. "I think overall they neglected to address them and were generally dismissive," he said. Soon after, he began cooperating with federal authorities.
Thorell, 38, is the government's star witness in a trial in Manhattan federal court against former Visium trader Stefan Lumiere, who is accused of scheming to inflate the value of distressed-debt holdings in Visium's credit portfolio. Gottlieb wasn't charged.
In his first day on the witness stand, Thorell, who was granted immunity from prosecution, admitted that he participated in the mismarking scheme, which he said began in 2011, and knew that it was illegal.
Jonathan Gasthalter, a spokesman for Visium and Gottlieb, declined to comment on the testimony.
Wearing Wire
He said he went to the U.S. Securities and Exchange Commission in September 2013, and soon returned to Visium wired to record his colleagues. Thorell said he developed a ruse with federal agents in which he tried to convince Lumiere that the two men should report the illegalities at the firm to federal authorities.
In a tape played for jurors, Lumiere doesn't acknowledge his culpability in the scheme but instead implicates his boss, Christopher Plaford, who has pleaded guilty and is cooperating with the government. Using an obscenity, Lumiere says that Plaford's been mismarking "egregiously" and adds, "It's been outside the context of what was right from the beginning."
Thorell's testimony laid out a two-year scheme to inflate prices on certain distressed-debt holdings by securing sham quotes from brokers who provided them in exchange for more trading business. He said Plaford called him into his office for a private meeting in mid-2011 and asked him to begin submitting a monthly spreadsheet of prices from his own e-mail account that Plaford had prepared. Thorell told jurors that Plaford told him to keep it a secret from everyone else at the firm.
"I was at a loss," Thorell testified. "I was overwhelmed. I had a lot to take in. I was very confused."
Quid Pro Quo
Prosecutors showed the jury e-mail exchanges in which broker quotes to support those valuations were supplied by Lumiere, who Thorell said appeared to be friends with the primary brokers involved, one from Princeridge Group LLC and the other from Janney Montgomery Scott LLC.
The inflated quotes often were furnished for bonds overseen by Lumiere, including those of FriendFinder Networks Inc. and Nebraska Book Holdings Inc. Lumiere then encouraged Thorell to trade with the brokers as a "quid pro quo-type thing," Thorell testified.
Thorell's testimony is expected to continue on Friday.
Earlier in the day, Visium's former chief compliance officer, David Keily, testified that he was rebuffed twice by a senior firm executive when he asked to participate on a committee that oversaw asset valuations.
For more on the red flags that presaged Visium's downfall, click here
Keily, who later rose to become Visium's chief lawyer, said Steven Ku, Visium's chief operating officer, denied Keily's requests in 2012 and early 2013 for a role on the valuation committee, but ultimately relented after senior executives were made aware of concerns about the pricing process. Keily's request came amid a routine examination of Visium's valuation process by the SEC.
Keily also testified that after Thorell met with him, Gottlieb and other executives to discuss concerns about valuations, little action was taken immediately.
"After the meeting in early July, nothing was done," he said. It wasn't until August 2013 that Thorell was removed from involvement in the valuation process; the fund was winding down at that point after a wave of investor redemptions. Thorell and the rest of the credit team were laid off that November after Visium's debt fund closed down.
The testimony of Thorell and Keily underscores earlier concerns about compliance practices at Visium. Investors and former employees previously questioned the appointment of Gottlieb's younger brother as the firm's compliance officer in its early days, and Gottlieb's ownership of shares in a company that his firm was invested in. For a time, Gottlieb was married to Lumiere's sister.
Under cross-examination by Lumiere's defense lawyer, Eric Creizman, Keily testified that Lumiere's tax returns showed he did not receive any bonus payments during the years the valuation manipulation was allegedly taking place. Creizman was trying to undercut the government's contention that Lumiere juiced the pricing on holdings to enhance his compensation.
— With assistance by Katia Porzecanski
Before it's here, it's on the Bloomberg Terminal.
LEARN MORE