Emerging-Market Currencies Climb as Lira Rebounds From Lows
By and
Stocks rise after Trump failed to support fiscal expansion

Turkey's lira gained on speculation central bank will step in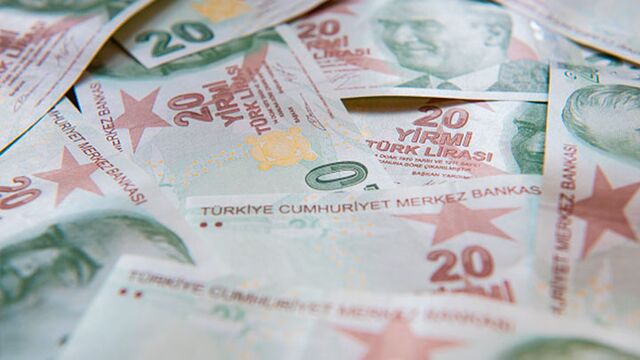 Emerging-market currencies rose the most in 10 months as the Turkish lira rebounded from record lows on speculation the central bank will take steps to support it. 
The MSCI Emerging Market Currency Index surged by the strongest pace since March and a similar gauge of stocks is on track to erase losses recorded after Donald Trump's election in November. The U.S. President-elect news conference on Wednesday failed to support fiscal expansion measures that could spur the country's economic growth and lead the Federal Reserve to accelerate the pace of interest rate hikes, spurring a rally in assets from high-yielding countries that benefit from low U.S. rates. 

The Turkish lira advanced for the first time in six days after a person with direct knowledge of the matter said Turkish policy makers are forcing banks to borrow at a higher rate through the central bank's late liquidity window. In Brazil, stocks and the currency climbed after the central bank slashed interest rate by more than expected and Russian assets climbed after Trump brushed aside unsubstantiated claims that President Vladimir Putin's government compiled damaging information on him.
Currencies
The MSCI Emerging Markets Currency Index advanced 1 percent at 4 p.m. in New York.
Turkey's lira advanced 2.7 percent, the most among major currencies.
Brazil's real gained 0.3 percent to the highest level since Nov. 8.
Russia's ruble added 0.6 percent, extending Wednesday's 0.7 percent increase.
Mexico's peso rebounded from record lows, rising 0.3 percent
Stocks
The MSCI Emerging Markets Index rose 1.1 percent, its third day of gains; the gauge is on track to erase losses after Trump's win.
Brazil's Ibovespa surged 2.4 percent.
Russia's dollar-denominated RTS Index increased 1.7 percent.
Top Stories
Mexico Risk Exceeds Colombia as Trump Inauguration Nears:

Chart

Weak Won Lures Investors Looking Past Korea Scandals, Trump Risk
South African Rand Heads for Best Yearly Start Since 2008: Chart

Pimco

Says China's Next Big Shock May Be a Yuan Free Float