Drug Cartels Are Looting Mexican Gas Pipelines
The black market is booming.
By and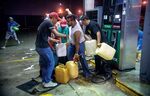 "How long will it take you to get here?" Panchito, a gasoline thief, shouts into his cell phone at a truck driver headed his way. "I've got 12 canisters filled with diesel just for you."
"I'll be there in about an hour," replies the driver, known by his nickname, El Chile Verde. "I'm just leaving Mexico City now."
Panchito sells stolen fuel from the side of a highway outside Mexico City. He declined to give his last name. He says demand for his services will only grow after the government raised fuel prices as much as 20 percent on New Year's Day—the most in almost two decades.
The price hike brings to an end years of subsidies that kept gasoline cheap for drivers—but at an estimated annual cost of 200 billion pesos ($9 billion) to the government. The move, which comes as economists forecast Mexico's slowest growth in four years, is intended to help stabilize rising public debt and foster competition and private investment in the fuel market. No matter the reasons, Mexicans are furious. They've demonstrated against the gasolinazo, or "gas shock," across the country, and have marched on Paseo de la Reforma, the iconic main business boulevard of the nation's capital. Ordinary Mexicans have forced gas station attendants to give them fuel for free.
All this is creating headaches for Enrique Peña Nieto, whose popularity was already the lowest of any president since one-party rule ended in 2000. Peña Nieto is limited to a single term, and polls show potential candidates from his Institutional Revolutionary Party (PRI) trail populist opposition leader Andrés Manuel López Obrador in the race for the mid-2018 presidential election. López Obrador has made the jump in gasoline prices his latest rallying cry against the administration.
"This is definitely going to have consequences for the PRI," says Jorge Chabat, a political scientist at the Center for Economic Research and Teaching, a university based in Mexico City. "Frankly, I don't see any way that they can win in 2018."
The black market is booming. Several states experienced gasoline shortages at the end of last year as more thieves tapped into state-owned Petróleos Mexicanos (Pemex) pipelines. The pilfered fuel was sold to drivers hoping to save money. Pipeline theft in 2015 increased sevenfold, to more than 5,500 taps, from just 710 in 2010. Pemex attributes the company's 12-year slide in crude production in part to the growth in illegal taps.
The drug cartels have turned to fuel theft as a side business worth hundreds of millions of dollars each year, and crime groups focused solely on gasoline robbery have sprung up, says Alejandro Schtulmann, president of Empra, a political-risk consulting firm in Mexico City. "You only need to invest $5,000 or $8,000 to buy some specific equipment, and the outcome of that is huge earnings."
Fuel theft creates a vicious cycle: The theft increases costs for Pemex and makes the official gasoline supply more scarce, contributing to higher prices for legal consumers. Theft amounts to about $1 billion a year, says Luis Miguel Labardini, an energy consultant at Marcos y Asociados and senior adviser to Pemex's chief financial officer in the 1990s. "If Pemex were a public company, they would be in financial trouble just because of the theft of fuel," he says. "It's that bad."
The bottom line: Fuel theft costs Mexico's state-run oil company about $1 billion a year and has become a lucrative side business for drug cartels.
(
Corrects headline to reflect that drug cartels are looting gas pipelines, not gas stations.
)
Before it's here, it's on the Bloomberg Terminal.
LEARN MORE