Dollar Bulls Say 'Where's My Stimulus' as Trump Fixates on Trade
By
Emphasis on U.S. manufacturing revival seen tempering rally

Protectionist policies, tariffs mulled against trade rivals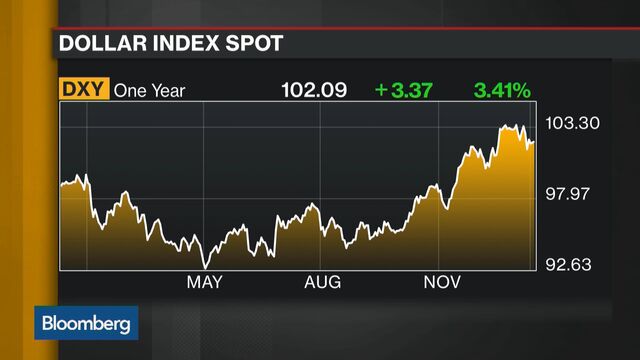 To the currency prognosticators on Wall Street, there's the Donald Trump that's great for the dollar, and then there's the Donald Trump that's bad for the dollar. Which one emerges as dominant is proving to be tough to figure out.

Investors were quick to bet on the pro-dollar Trump almost immediately after the election, waging he'll prioritize his more mainstream policies, such as tax cuts and fiscal spending. But if anything, he's emphasized policies that may weigh on the greenback. Reviving the manufacturing industry and regaining the nation's industrial prowess have dominated his Twitter feed, and his appointment of some top trade officials is a "strong signal" that protectionist policies and tariffs on China and Mexico is forthcoming, according to Barclays Plc.
"Weak dollar policy is a natural extension of protectionist policies," said Bilal Hafeez, global head of foreign-exchange research at Nomura Holdings Inc. in London. "It could take the form of a tweet, actual FX intervention or even the creation of a sovereign wealth fund. Needless to say, Donald Trump's position on trade policy should not be ignored."
While these early indications of his policy preferences may well change once Trump takes office, investors are starting to question whether the rally that's pushed the dollar to a 14-year high has gone too far, too fast. The greenback hasn't been able to gain new ground against the euro and the yen -- the most traded currency pairs -- since the first trading day of 2017. Analysts well versed in technical strategies have also pointed out that the relentless rally in stocks may reverse, taking the dollar with it.

Not only do politics have an outsize impact on the $5.1 trillion-a-day market, but traders now also have to confront a U.S. president who's had first-hand experience in how global exchange rates affects businesses, and has in the past railed against the so-called strong dollar policy, a dogma promoted by then-Treasury Secretary Robert Rubin in 1995.
A strong currency is often testament to investors' confidence in a country's growth potential, but it makes exports less competitive, and often gives imports an edge over goods made domestically. In the case of the U.S., a 10 percent appreciation in the dollar contributes to a 0.7 percentage point decrease in gross domestic product over two years, according to the Federal Reserve Bank of New York.
When asked on television in August 2015 whether he has a strong dollar policy, Trump said the currency's rise "is going to hurt us very badly," and while "it sounds good to say we have a strong dollar," "that's about where it stops."

"Trump is a rule changer -- the rules before were that not even the president of the United States spoke about the dollar," said David Bloom, global head of currency strategy at HSBC Holdings Plc in London. "Trump's not president yet, but if he puts out tweets like that, then I don't care what the Treasury secretary says when the president of the United States is involved."
— With assistance by Vincent Cignarella, and Liz McCormick
Before it's here, it's on the Bloomberg Terminal.
LEARN MORE