Departing U.S. Envoys in Last-Ditch Bid for Pacific Trade Pact
By
Ambassadors warn against ceding ground to China on trade

Trump vowed to withdraw from TPP on first day in office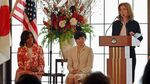 Six departing U.S. ambassadors in Asia including Caroline Kennedy urged Congress to pass the Trans-Pacific Partnership "before the window for doing so closes," saying a failure to adopt the trade deal would cede leadership to China in the region and hurt American workers.
"Walking away from TPP may be seen by future generations as the moment America chose to cede leadership to others in this part of the world and accept a diminished role," the ambassadors wrote in the letter obtained by Bloomberg News. "Such an outcome would be cause for celebration among those who favor 'Asia for the Asians' and state capitalism."
The letter was a last-ditch and largely symbolic plea from the diplomats for lawmakers to buck sentiment aired during the presidential election that the 12-nation pact, which once had strong support and seemed destined for passage, was bad for the U.S. economy. During the campaign, Donald Trump called the deal bad for the U.S and vowed to walk away from it on his first day in office. His Democratic opponent Hillary Clinton abandoned it as well.
Read how faith in free trade gave way with Trump's rise -- QuickTake
The letter was signed by former Senator Max Baucus, the ambassador to China; Kennedy, the U.S. ambassador to Japan; and the top U.S. diplomats in Singapore, Korea, New Zealand and at the Association of Southeast Asian Nations. Baucus's successor has been announced and the rest, political appointees named by President Barack Obama, will all be replaced after Trump takes office.
By abandoning the TPP, the U.S. would undermine its credibility as a trade partner and a leader, the envoys warned. "It would be disastrous for supporters of inclusive politics, rule of law, and market economics – and for U.S. national interests," they wrote. China is working on its own Asia trade pact, which the ambassadors said would "serve as the template for economic integration in Asia and result in higher tariffs for the U.S."
The ambassadors argued that commitments other countries make under the TPP would offer an advantage to the U.S. and raise standards. Not approving it would present new competitive disadvantages in the region, they wrote.
Trump will probably need to do something on the trade front to placate his voter base looking for a more protectionist approach, according to Christopher Hill, former assistant secretary of state for East Asian and Pacific affairs.
"Whether just offering up TPP as a sacrifice, offering that up as a spoil of war as you will is enough for one of these core constituencies of his, I am not so sure," Hill said in a recent interview. China has been "interested in their own version of TPP," he added. "I think they might be interested in that kind of policy of filling this vacuum."
Before it's here, it's on the Bloomberg Terminal.
LEARN MORE