Citadel Targets Off-the-Run Treasuries for Next Push
By
Firm traded $8 trillion notional value in Treasuries in 2016

Seeks to be the number one market-maker in fixed income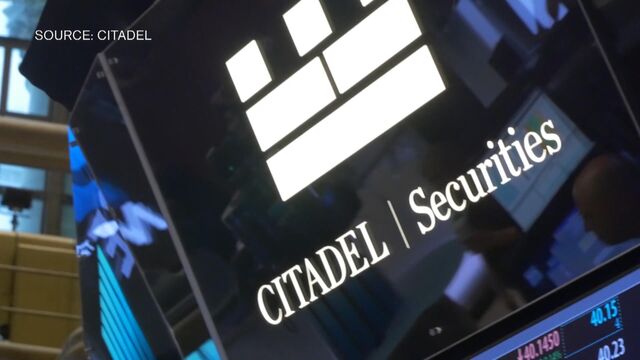 Citadel Securities's priority in fixed-income market-making this year will be to increase its presence in harder-to-trade and non-benchmark Treasury securities.
"The biggest expansion for us this year in 2017 is going to be in off-the-run Treasuries," Paul Hamill, the firm's global head of fixed income, currencies and commodities, said during an interview on Bloomberg Television. "That's a very meaningful step for us because that is an area very heavily dominated by the banks. It is much more focused on relationship-driven trading. That's the focus for this year."

Long the domain of the largest banks, the U.S. Treasury market has been gaining some of the world's most sophisticated traders, such as Citadel Securities, the broker-dealer arm of Ken Griffin's Chicago-based hedge fund Citadel LLC. Last year, the firm hired Michael de Pass, a former trader at Bank of America Corp., to head Treasuries trading. In 2015, Citadel broke into a segment of the market known as "all-to-all," which mimics the way stocks and futures trade.
Growing distortions in market pricing, including between off and on-the-run Treasuries, has helped prompt firms such as Citadel to make markets in more seasoned Treasuries. With banks' having less capacity to house securities on their balance sheets, off-the-run Treasuries have become more difficult to trade. That has fueled an expansion of a premium for the most liquid on-the-run notes.

The firm's efforts are already paying off, with Citadel ranking among the top 10 Treasury market-makers on Bloomberg LP's trading platform, according to Hamill. For all of 2016, the notional value of Treasuries the firm traded amounted to $8 trillion, he said.
"The biggest opportunity continues to be rates," Hamill said. "We are going to expand out in Europe. Asia we really haven't even gotten started."
New entrants to the $13.9 trillion Treasury market has come amid concern in recent years that banks, hobbled by tougher capital requirements, are holding fewer bonds in their inventories to facilitate clients' transactions. Those concerns intensified after Oct. 15, 2014, when banks ignored about a third of requests to trade as yields swung wildly -- an event that prompted regulators to try to figure out how to improve the market.
The firm also plans to increase its dominance in the interest-rate swaps market, adding products beyond just plain-vanilla transactions to more custom deals. Citadel wants to expand its reach into deals based in other currencies, says Hamill, with those in British pounds likely the "next currency and then the Japanese yen."
"We continue to believe we can go to anywhere it makes sense for us to go," said Hamill.
— With assistance by Erik Schatzker
Before it's here, it's on the Bloomberg Terminal.
LEARN MORE