Christie Gets New Hearing in Bridgegate Misconduct Case
By
Judge overturns probable-cause finding on citizen's complaint

Ex-fireman claims Christie should have halted traffic jams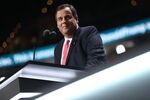 Chris Christie won a key legal ruling in an official misconduct case filed against him by an ex-fireman who said the New Jersey governor should have taken steps to end politically motivated traffic jams near the George Washington Bridge three years ago.
The ruling Thursday prolongs a scandal that helped undermine Christie's Republican run for the White House, but gives him another chance to end the case. Superior Court Judge Bonnie Mizdol ruled that a municipal judge violated Christie's rights last October by saying probable cause existed for prosecutors to investigate retired fireman Bill Brennan's complaint. 
Mizdol ordered a new probable cause hearing before the municipal judge, ruling that Christie's lawyers should have been allowed to cross-examine Brennan. But she refused to dismiss the case, as Christie requested.
"The denial of counsel prevented the court from engaging in a proper evaluation of the evidence presented by Brennan," Mizdol said. At a new hearing, she said, Christie must be "afforded the constitutional protection of his right to counsel."
At a hearing on Wednesday, lawyers for Christie and the Bergen County Prosecutor's Office urged Mizdol to reverse the probable-cause finding. It's not clear who would pursue the case if Judge Roy McGeady, the county's presiding municipal judge, conducts a new hearing and finds probable cause to investigate. 
Both the attorney general and the prosecutor in Bergen County, where the traffic jams took place, have recused themselves and assigned subordinates to the matter. 
Legal Standing
Mizdol previously ruled that Brennan lacked the legal standing to request a special prosecutor to investigate his complaint alleging that Christie "refrained from ordering that his subordinates take all necessary action to re-open local access lanes" to the bridge.
McGeady held the probable cause hearing in the middle of a federal trial of two former Christie allies, Bill Baroni and Bridget Anne Kelly, accused of plotting to snarl traffic to punish the mayor of Fort Lee for not backing the governor's re-election. They were convicted, and another former Christie ally who pleaded guilty, David Wildstein, testified against them.
Wildstein testified that during the lane closings, he and Christie discussed the traffic in Fort Lee and the mayor's failure to get phone calls returned as he sought an explanation. Kelly later testified that she and Christie discussed the lane closings a month earlier.
At the probable cause hearing, Brennan cited Wildstein's testimony as the reason why Christie should be prosecuted for official misconduct.
Civic Activist
Brennan was a Teaneck firefighter who won a $3 million judgment after claiming township officials harassed him for criticizing department policies. He later went to college and law school, and developed a reputation as a combative civic activist. He is running for governor, and Carpenito assailed him Wednesday as a "political candidate with an ax to grind."
Brennan, in an e-mail, said that Christie's lawyers "committed an epic strategic blunder" in seeking to dismiss the case.
"The case is going back to the same judge who found probable cause," Brennan said. "This time the record will be augmented by Bridget Kelly's testimony."
Christie's attorney Craig Carpenito didn't immediately return a call or e-mail seeking comment on the ruling or Brennan's response. Christie's spokespeople didn't immediately respond either.
— With assistance by Elise Young
Before it's here, it's on the Bloomberg Terminal.
LEARN MORE