Chargers Move to Los Angeles Is an Unforeseen Gift to StubHub
By
The NFL team will join L.A. soccer team in StubHub Center

Ticket reseller could get added $14 million in brand exposure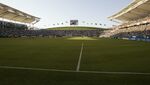 Good things happen when you pay to put your name on a soccer stadium and a National Football League team starts calling it home.
San Diego Chargers owner Dean Spanos today announced his plan to move the team to Los Angeles before the start of the 2017 season. As the team waits for a new stadium to be finished, the Chargers will play two years in the 30,000-seat StubHub Center, home to Major League Soccer's Los Angeles Galaxy.
StubHub in 2013 signed a six-year naming-rights deal with Anschutz Entertainment Group, which owns and operates the stadium. While spokesmen from StubHub and AEG declined to comment on the terms of the deal, experts say the San Francisco-based ticket network probably agreed to pay in the neighborhood of $9 million per year.
As a result of the Chargers move, StubHub now gets additional brand exposure worth between $9 million and $14 million, according to Eric Smallwood, managing director of sponsorship and analytics firm Apex Marketing Group Inc. His estimate assumes the games sell out, and the range depends on how aggressive the Chargers are with media and marketing around the stadium.
"Soccer teams often play in football stadiums," Smallwood said. The Seattle Sounders share an arena with the Seahawks, for example. The New York Red Bulls played for a while in Giants Stadium. "It's rare for that to go the other way."
The 14-year-old StubHub Center will be the smallest NFL venue by half. The only other NFL stadium with capacity for fewer than 60,000 fans is the 56,000-seat Oakland-Alameda County Coliseum, home of the Raiders.
StubHub's deal with AEG doesn't raise the price for the ticketing company now that the stadium has another, more popular tenant.  
The Chargers will eventually share the $2.6 billion stadium that Rams owner Stan Kroenke is building in Inglewood. For now, the Rams are playing in the 93,000-seat L.A. Memorial Coliseum.
Nine million a year isn't a bargain by NFL standards. M&T Bank recently extended its deal with the Baltimore Ravens for $6 million a year over 10 years, and New Era agreed to pay $5.7 million a year in a seven-year deal with the Buffalo Bills.
Before it's here, it's on the Bloomberg Terminal.
LEARN MORE