Biden Says Trump Spy Agency Remarks Hurt U.S., Help Russia
By and
Vice president defends handling of unverified Trump dossier

Obama awards Biden Medal of Freedom in surprise ceremony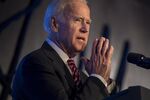 Vice President Joe Biden defended U.S. spy agencies' handling of a dossier of salacious, unverified allegations about Donald Trump and said the president-elect's open criticism of the intelligence community has harmed U.S. national security and helped Russia.
"It is really very damaging, in my view, to our standing in the world for a president to take on the crown jewels of our national defense and denigrate it," Biden said. "It plays in, particularly now the Russian narrative, that America doesn't know what they're doing, you don't want to hang out with those guys, you better look our way."
In an hour-long interview in his office in the West Wing of the White House days before he is to leave office, Biden offered blunt assessments of members of the incoming Trump administration, thoughts on the Democratic Party's future and a spirited endorsement of the U.S. intelligence community's work. The interview came on an emotional day for Biden, who later in the afternoon was surprised when President Barack Obama awarded him the Presidential Medal of Freedom.
Obama drew tears from Biden as he described him as one of the finest vice presidents in history. He joked that Biden's legacy was, "as Joe once said, a big deal," pausing between the two words. Biden was famously caught on a microphone calling the Affordable Care Act a "big deal," using an expletive, when Obama signed it into law in 2010.
Trump's Criticism
That characteristic candor was on display earlier in the day, when Biden was asked about Trump's recent statements regarding the intelligence community. The vice president questioned the president-elect's comments at a news conference Wednesday comparing the leak of the dossier to Nazi Germany's treatment of political opponents.
"The one thing you never want to invoke is Nazi Germany, no matter what the circumstances," Biden said. "It just, even if you're trying to make a point that may -- and I'm not suggesting he did -- may be relevant, it is an overwhelming diversion from the point you're trying to make."
At one point, Biden pulled a black leather-encased tablet computer from his briefcase to demonstrate how he receives intelligence briefings, describing a password-protected app and a function that allows him to pose questions to analysts.
"It's an extremely valuable tool," he said. Of Trump, he said, "I think he'll come to understand that" and if he doesn't it will be a "genuine tragedy" for the country.
Trump blasted U.S. intelligence agencies after some details of their report on Russian efforts to interfere in the U.S. election by hacking top Democratic aides leaked to the press. The incoming president insinuated the government may have been behind the circulation of an uncorroborated dossier published by BuzzFeed detailing allegations about his personal and financial life in retribution for his previous criticism of U.S. intelligence.
Biden said intelligence agencies had an obligation to tell the president and the president-elect that the graphic allegations were circulating among members of the media. And while the vice president acknowledged he had read "everything" in the dossier, he stressed that neither he nor President Barack Obama had asked for additional details or pushed further investigation about what he referred to as "the BuzzFeed part." The dossier was described in a two-page addendum to the broader Russia report that intelligence officials provided to Obama and Trump.
"It surprised me in the sense that it made it to the point where the agency, the FBI, thought they had to pursue it," Biden said. "It didn't surprise me in the sense that you hear all kinds of this stuff, you know, in politics and particularly relating you know all the stuff about women and all that."
'Disconcerting' Statements
The vice president repeatedly returned to the importance of intelligence information for "a president who has no exposure whatsoever," and stressed the consequences of Trump's criticism. Foreign leaders, Biden said, have called him to express concern over Trump's "disconcerting" statements. They're worried that Trump is revealing problems in a U.S. intelligence apparatus they previously trusted, he said.
A Washington veteran whose career in the capital stretches back to his 1972 election to the Senate, Biden, 74, offered a group of reporters invited into his office a survey of leading members of the incoming Trump administration.
Discussing his successor, Biden said incoming Vice President Mike Pence, a former congressman and Indiana governor, whom Biden referred to repeatedly by his first name, is "very solid" and a personable leader. Though he disagrees with Pence's socially conservative views, "I like him," Biden said, adding that he had personally drafted numerous memos for the vice president-elect.
He described Pence as "significantly more informed" than Trump when it comes to Russia and President Vladimir Putin's behavior and said based on their conversations Pence is "closer than I thought he was in terms of his having access to Trump," which Biden said is a good thing. 
Former Generals Michael Flynn and James Mattis, Trump's picks for national security adviser and defense secretary respectively, are "smart as hell," Biden said, adding he hopes Trump is "open to listening to them."
Regarding former Exxon Mobil Corp. chief executive Rex Tillerson, nominated for secretary of state, he said, "The main thing I would want to know is whether or not the nominee is totally divested" from financial interests related to his work at Exxon. "I've heard that he's gone a long way to do that but I've not focused on it at all," he said.
Clinton's Failure
Biden also autopsied the 2016 campaign, saying Democratic candidate Hillary Clinton had failed to "cut through" with a message that inspired the working class. But Biden conceded that was no easy task given lurid revelations about Donald Trump.
"A guy says it's alright to go and grab a woman's private parts and at the same time someone says I got a plan for college -- what are you gonna cover?" Biden said. "Not a joke, you got to cover that."
Biden acknowledged his own failures in reading the political moment, saying he thought Trump's "outrageous" statements would "absolutely kill" his campaign.
And after nearly five decades participating in the national political conversation, the vice president said he remained optimistic about the future of the Democratic Party, despite across-the-board losses in last year's elections. Republicans will struggle to repeal the Affordable Care Act, their party is in ideological disarray, and social progress had moved past them, he argued.
"There's certain things -- women, LGBT community, the treatment of minorities" whose gains, he said, are now firmly entrenched in American society.
Before it's here, it's on the Bloomberg Terminal.
LEARN MORE