AT&T Executives to Meet With Trump to Talk Time Warner Deal
By , , and
CEO is seen at Trump Tower in New York Thursday morning

Trump blasted the $85.4 billion deal during presidential race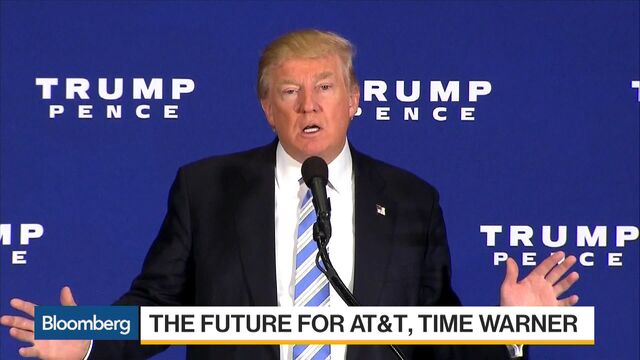 Donald Trump met with AT&T Inc. Chief Executive Officer Randall Stephenson to discuss the company's proposed $85.4 billion bid for Time Warner Inc., according to people familiar with the matter. The president-elect has said he opposes the deal.
Stephenson showed up at Trump Tower at about 9:20 a.m. New York time along with Robert Quinn, AT&T's senior executive vice president for external and legislative affairs, and left shortly after 10:30 a.m., ignoring shouted questions from reporters. Sean Spicer, Trump's spokesman, confirmed the meeting took place but didn't disclose specific topics.
Winning approval for the transaction is essential for Stephenson's plan to turn the telecommunications giant into a media powerhouse, producing some of the world's most popular TV shows and movies. One of Stephenson's previous megamerger attempts, a 2011 deal to acquire T-Mobile USA Inc., now T-Mobile US Inc., was derailed by the Obama administration.
Sean Spicer, the incoming White House press secretary, was asked by reporters on a conference call Thursday whether Trump still favors scuttling the deal.
"His primary focus is how companies will continue to create jobs" when he meets with CEOs, Spicer said. "That's generally been the subject of all of his meetings when he meets with these CEOs."
It would be very unusual for a president to weigh in on what is essentially an enforcement matter, since potential antitrust concerns in this deal would be handled by the Justice Department. While the agency is part of the executive branch, the White House has typically stayed at arm's length from the antitrust division's merger reviews. Even the appearance of trying to influence this type of legal matter is extremely rare.
Power Concentration
In October, before the election, Trump said his administration wouldn't approve the merger, saying, "It's too much concentration of power in the hands of too few." He cited the deal as "an example of the power structure I'm fighting."
His options as president to block the merger are limited, especially if AT&T can avoid a review by the Federal Communications Commission by not acquiring wireless licenses Time Warner holds. The Justice Department could sue to stop the transaction, but it would have to convince the courts that the deal would threaten competition. That could be tough because AT&T isn't buying a direct competitor.
AT&T didn't respond to a request for comment.
CNN Tweet
It's unclear whether Trump's opposition to the deal is influenced by his animosity toward CNN, controlled by Time Warner. Trump said in a Twitter posting Thursday that "@CNN is in a total meltdown with their FAKE NEWS because their ratings are tanking since election and their credibility will soon be gone!"
Trump's message followed an angry tirade against the cable news network and a news website, BuzzFeed, during a press conference Wednesday for propagating what he called "fake news."
Trump met Wednesday with the CEOs of Bayer AG and Monsanto Co., which have also been pursuing a merger.
Trump has said little publicly about the AT&T deal since the election, but told a friend in the last few weeks that he remains opposed to the megamerger because he believes it would concentrate too much power in the media industry, according to people close to the president-elect.
Trump's cabinet pick for attorney general, Senator Jeff Sessions, didn't discuss the merger in his meetings with Trump ahead of his confirmation, a spokesman for Sessions said earlier this week.
As head of Justice, Sessions would supervise the department's antitrust division.
During Sessions's confirmation hearing on Thursday, he testified before the Senate Judiciary Committee that he has "no hesitation to enforce antitrust law."
"I have no hesitation to say certain mergers should not occur," Sessions testified.
— With assistance by Toluse Olorunnipa, and Joshua Green
Before it's here, it's on the Bloomberg Terminal.
LEARN MORE