'Muddled Brexit' Threatens London's Future, Mayor to Warn May
By
Sadiq Khan rallies support for U.K. to stay in single market

Capital should have more control over its economy, mayor says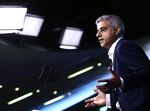 London Mayor Sadiq Khan will call on the U.K. capital's business and local government leaders to press for "privileged" access to the European Union's single market after Britain quits the bloc.
Warning that Prime Minister Theresa May is leading Britain to a "muddled Brexit," Khan will say in a speech at the Mansion House on Thursday evening that the future prosperity of London depends on maintaining easy access to European workers and markets.
"For months now, I've been arguing against a hard Brexit, but the only thing that would be as damaging as a hard Brexit is a muddled Brexit and it looks like that is where we are heading without urgent action," Khan will say, according to extracts released by his office. "I urge you to join me in continuing to put pressure on ministers to fight for the right deal for London -- and therefore the right deal for the whole country."
Khan, a member of the opposition Labour Party who campaigned for Britain to stay in the EU before the June referendum, will say it is increasingly important for business and council leaders to voice their concerns. May has said she will trigger Article 50 of the Lisbon Treaty by the end of March, starting two years of exit negotiations.
"This means fighting to retain privileged access to the single market -- the foundation of British jobs, wealth and prosperity. This means fighting to retain our ability to employ the best and the brightest talent from Europe and around the world," Khan will say. "And it means fighting to avoid a reckless hard-headed, hard Brexit approach without any transitional plans in place."
He will also demand greater powers for London to build its economy as Brexit takes hold. Local councils and the mayor should be given the authority to enhance skills provision, speed up infrastructure delivery and build more houses.
"More control for London was important before the referendum, but in the light of Brexit and the economic uncertainty we now face, it's become absolutely crucial," he will say.