Your Evening Briefing
Here are today's top stories.
Bloomberg News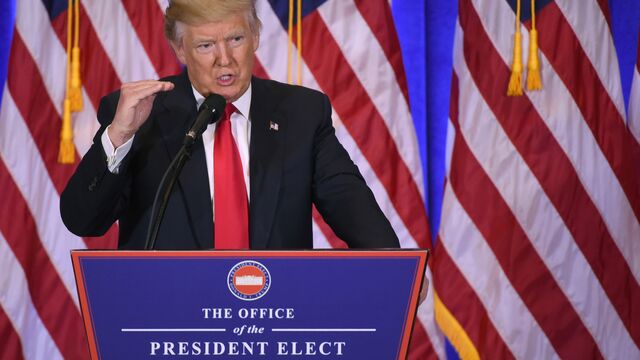 Want to receive this post in your inbox every afternoon? Sign up here.
Good afternoon. The biggest story today is President-elect Donald Trump's first formal news conference since July. His comments ranged from the Russia reports (he slammed them) to drug prices (stocks tumbled) to divesting from his business (not happening). —Megan Hess
Trump slams Russia reports as he unveils a plan to exit his businesses. The president-elect said, in his first press conference since before the election, that he will step down from his positions at the Trump Organization, shifting management to his sons. But he won't divest ownership, raising questions about whether he has adequately addressed conflict-of-interest concerns. Trump also denounced unsubstantiated reports that the Russian government has gathered potentially damaging information about his finances and conduct.
Drug stocks plunged as Trump threatened to force price bidding. Pharmaceutical and biotech stocks plummeted as the president-elect criticized the industry and said he'd force them to bid for U.S. business to save the government billions of dollars.
Rex Tillerson called Russia a danger to the U.S., during his cabinet confirmation hearing on Wednesday. Senators of both parties aggressively pressed Tillerson, Trump's nominee for secretary of state and Exxon's former CEO, on the issue. The committee's top Democrat said Exxon deals under Tillerson helped Putin amass "slush funds."
Detroit is betting you'll get sick of SUVs. The auto show in Detroit this week is stuffed with cars. Not 6,000-pound SUVs or spacecraft-hauling pickup trucks, but regular old sedans and coupes. And when it comes to SUVs, car execs know something most people in a dealership don't: Drivers in large part buy the machines that car companies want them to buy.
Flying river taxis eye their domain. French startup SeaBubbles is seeking to close a third round of funding in less than a year and cement interest from the city of Paris, companies in the San Francisco Bay and other potential customers. The battery-powered bubble-shaped boats, recharging docks and a taxi-hailing app will be ready to demonstrate in Paris in June.
Prince's music could be coming to Spotify. While Prince zealously guarded and controlled his music, his family and their representatives are now trying to make the catalog more widely available. A licensing deal between Prince's estate and Global Music Rights covers songwriting royalties for music played on radio stations, online services and public performances.
Boxed vodka just wants to be loved. When the co-founder of Griffon Brands tells people his premium vodka comes in a box, "half of them laugh in my face," he says. He sees the boxed version as more practical—you don't have to worry about glass shattering—but there are still a lot of drinkers to convert.

Before it's here, it's on the Bloomberg Terminal.
LEARN MORE