business
Vancouver Renters Help Million-Dollar Homeowners With Their Taxes
By
Province raises homeowner grant threshold to C$1.6 million

Loans to pad first-time buyers' down payments start next week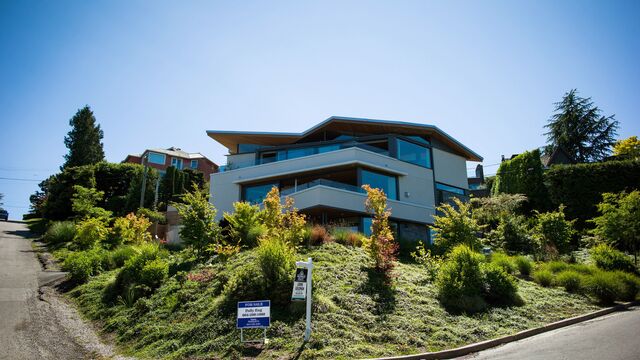 In Canada's priciest real estate market, the provincial government is pitching in to pay the property taxes of million-dollar Vancouver homeowners and offering loans to first-time buyers for down payments.
Too bad for renters, who are among the taxpayers footing a C$1.5 billion ($1.2 billion) bill at least in the next few years.
"This is a remarkably lousy policy," said Thomas Davidoff, head of the University of British Columbia's Centre for Urban Economics and Real Estate. "You're going to take money from people who don't own homes and give it to people who own homes. That seems to be a step exactly in the wrong direction if the dominant issue is affordability."
With a general election looming in May, British Columbia is under pressure to address housing affordability in Canada's third-biggest city. In Vancouver, the cost of a typical home has surged to nearly C$900,000, about 12 times median income.
The latest step Tuesday was to raise the threshold for property tax relief for homes worth C$1.6 million, from a previous limit of C$1.2 million. Under the new cutoff, 83 percent of homes in Metro Vancouver will be eligible for the subsidy that will reduce the tax bill on a principal residence by up to C$570 a year, according to the Ministry of Finance.
On Monday, the province will also start offering first-time buyers a cheap loan of C$37,500 to bulk up their down payments. Officials have estimated the province will spend C$821 million for homeowner tax grants in 2017-2018 and C$703 million for down payment loans over the next three years.
Tax Relief
"We're putting taxpayers first when it comes to housing," Housing Minister Rich Coleman said, following the loans-for-down payments announcement.
Finance Minister Michael De Jong said Tuesday the new grant threshold is intended to help homeowners who, for example, had bought a property for C$50,000 decades ago and are now living on a fixed income and finding it difficult to pay the tax due on a house worth more than C$1 million.
"The loss of that grant which offsets their taxes would be very problematic," De Jong said. "That's the target. Those are the circumstances we're trying to address."
British Columbia already has an existing program for such people: Homeowners aged 55 or older can defer payment of taxes until the sale of the property or death. The current interest rate on deferred loans under that program is 0.7 percent.
Not Unreasonable
"If someone had hundreds of thousands of dollars of wealth increase, asking them to pay a small piece of that in property tax doesn't seem unreasonable, particularly when you consider the huge number of people who haven't experienced this," said Tsur Somerville, an economist focused on real estate at the University of British Columbia.
The expanded subsidy comes as home-value assessments, used to determine property taxes, have spiraled in Vancouver, consistently ranked among the world's most livable cities. In the year to July 2016, the value of a typical single-family home rose 41 percent to C$2.7 million on Vancouver's well-to-do west side and C$1.4 million on its humbler east side, according to the latest figures from BC Assessment.
The subsidy is even greater -- as much as $770 a year -- for homeowners in more remote areas of the province even after home-value assessments have fallen by as much as 50 percent in some areas.
That underscores criticism that the province's recent measures are poorly targeted, say Somerville and Davidoff. In Vancouver, home to glitzy waterfront mansions and some of Canada's richest neighborhoods, the cheap loans-for-down payments program will be open to the children of wealthy homeowners and to more constrained applicants alike.
Rental Squeeze
Meanwhile, the homeowner grant doesn't help renters caught up in Vancouver's bigger affordability crisis -- a near-zero supply of rental homes has pushed living costs far beyond the reach of low-income residents and contributed to a record number of homeless in the city.
The average rent on a two-bedroom apartment is C$1,368 a month in the west coast city, the highest in Canada after jumping 36 percent in the last decade, the government housing agency said in its most recent data for 2015. That compares to C$1,288 in Toronto, Canada's largest city, and C$760 in Montreal. The municipal government imposed a new tax on empty homes this month in an attempt to increase the supply of properties available for rent.
"It doesn't strike me that folks whose houses went up from C$1.2 million to C$1.6 million are the best places to be spending scarce provincial financial capital," said Somerville. "The biggest problem is you're giving money to people who saw an increase in their wealth from everybody else, including renters."
Before it's here, it's on the Bloomberg Terminal.
LEARN MORE