Trump's News Conference Bravado Foreshadows Tone for His Term
By and
President-elect rocks stock prices and denigrates spy agencies

Signature Trump show will excite allies and frustrate foes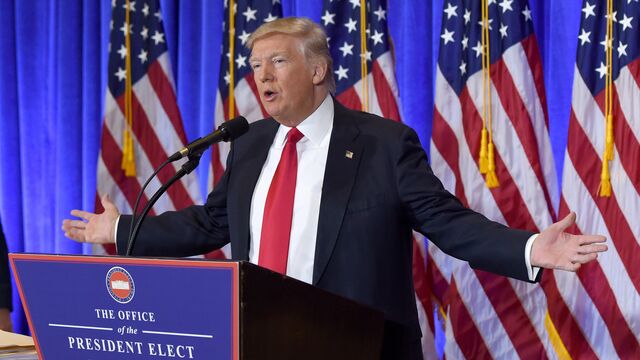 Donald Trump's first and only press conference as president-elect was a display of the chaos and bravado that have defined his political career.
Reporters crammed in the Trump Tower lobby were eager for a chance to pepper the next commander in chief about explosive claims that Russia gathered compromising intelligence against him and hacked his opponent's e-mails.
But it was Trump who set the tone, angrily denouncing reporters for propagating what he called "fake news" and trashing the intelligence community for not doing more to prevent the release of unsubstantiated, but salacious, allegations. 
"It was disgraceful, disgraceful that the intelligence agencies allowed any information that turned out to be so false and fake out," Trump said. "That's something that Nazi Germany would have done and did do. "
Just like voters and the media, investors were listening closely to Trump, who once again demonstrated a willingness to casually impact markets. 
Stocks reached session lows shortly after the 90 minute press conference ended when investors realized Trump wouldn't add any details about his plans for spending $1 trillion in infrastructure, loosening regulations on banks and curtailing U.S. trade.
Settling Down
But sentiment shifted as financial shares led an afternoon comeback, and the S&P 500 Index returned to virtually its exact level as before Trump began speaking. The measure closed two points from an all-time high.
In the meantime, the 10-year Treasury yield and the Bloomberg Dollar Spot Index also whipsawed. They peaked at 11:22 a.m., around the time Trump started speaking, and then declined as the president-elect called out Lockheed Martin Corp.'s F-35 jet program and targeted the pharmaceutical industry for "getting away with murder." That spurred a flight to quality as shares of drug-makers plunged. The Nasdaq Biotechnology Index tumbled 4 percent from its intraday high.
The main victim was again the Mexican peso, which touched a record low, trading for the first time above 22 to the dollar as Trump insisted that Mexico would reimburse the U.S. for building a border wall. It briefly recovered but was still left weaker on the day.
During the raucous hour-long session, Trump also conceded Russia had interfered in the presidential election and boasted he would be "the greatest job producer God ever created." The proceedings were signature Trump, likely to excite supporters and allies and serve as a template for how the president-elect and his staff will interact with the media and the public after they take office next Friday.
Warm Up
The tone was set early. Rather than taking the stage, Trump's spokesman and then his running mate served as a warm up for the headliner by blasting some news outlets for circulating the uncorroborated memos claiming to outline, in sometimes scandalous detail, intelligence about Trump's personal behavior allegedly collected by Russian intelligence.
Their out-of-the-gate criticism was amplified by the president-elect himself, who upon taking the stage reiterated his belief that a dossier published Tuesday evening by BuzzFeed was "fake news." He discounted alleged sexual encounters mentioned in the memos by noting, "I'm also very much of a germaphobe, by the way, believe me."
The show was certain to buoy Trump's supporters, who celebrated a candidate gleefully willing to dismiss with tradition and decorum throughout the campaign. And the strategy seemed to pay dividends, with the dramatic revelation that Trump now accepted Russia was behind the hack of his political opponent's reduced to just one of many notable moments.
Changing Relationship
Top aides have said they plan significant changes to how the White House interacts with the media, and Trump's unexpected political success has given his staff little incentive to reign in the carnival. And despite not holding a news conference since his election, Trump has gripped the attention of the media -- and markets -- with his frequent stream-of-consciousness posts to social media.
"It's just clear the president is not going to let down on going after the news, if it serves his interest," said Mike McKean, associate professor of journalism at the University of Missouri in Columbia and director of the futures lab at the Reynolds Journalism Institute.
Singled Out
Adding to the surreal nature of Wednesday's event was a pointed exchange with CNN reporter Jim Acosta, in which the president-elect sneeringly dismissed the cable channel as "fake news," and the employment of props: stacks of manila folders Trump said were stuffed with documents he said he had signed to ensure he would not face conflicts of interest in office. Midway through fielding questions, Trump turned the stage over to his attorney, Sheri Dillon, who spent 10 minutes outlining what he would do to turn over control of his businesses to his sons. 
At one moment, Trump almost offhandedly announced he had filled one of his last remaining Cabinet positions, tapping David Shulkin, the current undersecretary for health at the Department of Veterans Affairs, to head the agency.
Critics of the president-elect noted that he simply ignored some of the toughest questions he faced. Trump would not say whether he would continue sanctions imposed by the Obama Administration in retaliation for election-related hacking, despite accepting Russia's culpability.
Trump Critics
The press conference was "long on bluster and superlatives, short on substance," said Jane Kirtley, Professor of Media Ethics and Law at the University of Minnesota.
While pledging to unveil a new plan to replace the Affordable Care Act, Trump offered no details of how the program would work and if Americans would lose their insurance. He again refused to turn over his tax documents to validate that he had no loans with Russia.
And pressed on whether any member of his staff had been in contact with Russian officials during the campaign, Trump sidestepped and ended the press conference.
Kirtley said she was worried about Trump categorizing media as "good" and "bad" while exhibiting hostility toward the industry as a whole.
"What Trump seems to mean by 'fake news' is news with which he disagrees," she said. "He just refused to 'name' those he considers to be 'fake news' outlets. I personally find this incredibly offensive. It's a continuation of his innuendo that was a hallmark of his campaign."
CNN Response
CNN, in a statement released after the press conference, called their reporting "vastly different" than that of BuzzFeed, which published the full 35 pages of memos about what Russia allegedly gathered about Trump's behavior without being able to verify them. CNN's report on Tuesday was about intelligence officials delivering to Trump and President Barack Obama a two-page synopsis of the material, which was already circulating in Washington. It didn't give details about the allegedly compromising information.
"Given that members of the Trump transition team have so vocally criticized our reporting, we encourage them to identify, specifically, what they believe to be inaccurate," CNN said.
But for Trump, there was victory in the opportunity to once again frame salacious allegations and broad criticism as the work of reporters out to get him in a way that will likely invigorate his supporters and allies -- even as the exercise seemed certain to fan embarrassing snark and new questions about the legitimacy of the election.
"There's a lot of anger our there about media that has been lecturing us for months about fake news that's putting something out something unsupported, unsubstantiated," said Tim Graham, director of media analysis for the conservative Media Research Center in Alexandria, Virginia. "We are appalled by the media attitude that it's undemocratic to criticize them."
For reporters, the exercise was an early education in the unique challenges of covering a president playing by his own rules.
Before it's here, it's on the Bloomberg Terminal.
LEARN MORE