Trump Picks Shulkin to Head Maligned Veterans Affairs Agency
By
President-elect says top hospitals to help transform VA

Trump says he vetted 100 candidates before making choice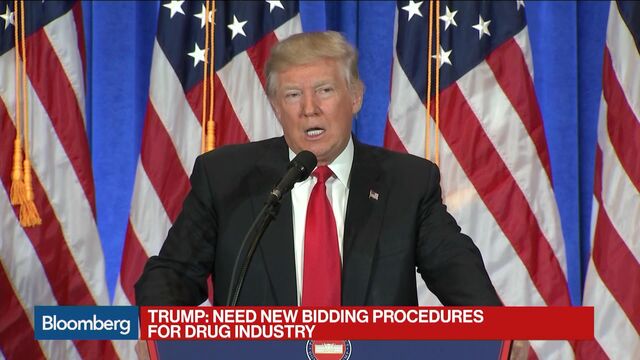 President-elect Donald Trump announced that he will nominate David Shulkin to be secretary of Veterans Affairs, heading an agency that has been beset by complaints of delayed medical care for military veterans.
Shulkin, currently the undersecretary for health at the agency, "will do a truly great job," Trump said Wednesday in a press conference where he announced the appointment. He said his administration will "straighten out the VA for our veterans."
The VA system, which has a budget of about $180 billion, has recently been engulfed in controversy. Eric Shinseki stepped down as head of the scandal-plagued Department of Veterans Affairs in May 2014 after a review found the system was struggling with treatment delays, mismanagement and falsified records.
Shulkin, an internist with a medical degree from the Medical College of Pennsylvania, is currently the chief executive of the Veterans Health Administration, leading the system's 1,700 hospitals, clinics and other sites for medical care. He earlier served in executive roles including president and chief executive of New York's Beth Israel Medical Center, chief medical officer of the University of Pennsylvania Health System, and chairman of medicine at Drexel University School of Medicine. He founded DoctorQuality, an information source on health care, serving as its chairman and CEO.
Host of Services
While the Department of Veterans Affairs is widely known for its 1,700 hospitals and clinics, and other health care services it provides to former soldiers, the agency has a host of responsibilities. It is divided largely into three groups: the Veterans Health Administration, which Shulkin already leads; the Veterans Benefits Administration, which provides education benefits, pensions and disability payments and help with home loans; and the National Cemetery Administration.
Leaders of top hospital systems from across the U.S. will help Shulkin transform the agency, Trump said. The Cleveland Clinic, the Mayo Clinic and other centers "will align themselves with us on the Veterans Administration," Trump said during the press conference. "We are going to set up a group. These are hospitals that are top of the line."
Trump has previously discussed allowing veterans to go outside of the traditional VA system to get access to health care, meeting last month with executives from the top U.S. nonprofit hospital systems to discuss such an overhaul. The move would be a boon to hospitals now struggling with rising costs and lower reimbursement rates as the VA system spends about $70 billion a year on medical care.
Finding a replacement for Robert McDonald, the current VA secretary, wasn't easy, according to Trump, who said he interviewed about 100 people for the job. Shulkin's appointment must be confirmed by the Senate.
Before it's here, it's on the Bloomberg Terminal.
LEARN MORE