Trump Aide Slams Report on Russia as News Conference Starts
By , , and
U.S. officials told president-elect of scheme to undercut him

Uncorroborated memos claim Russia sought damaging information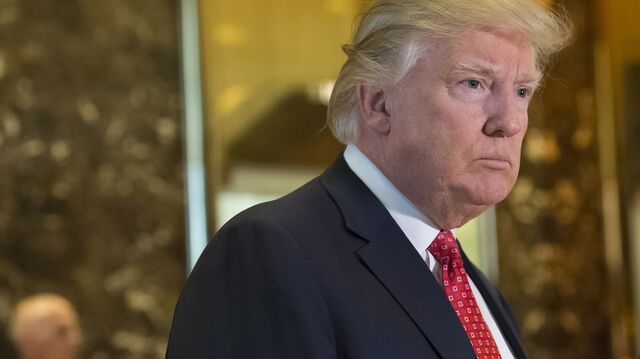 Donald Trump's aides vigorously denounced unsubstantiated reports that the Russian government has gathered potentially damaging information about his finances and conduct, just as the president-elect was about to start a news conference.
"It's frankly outrageous" for a left-wing blog that is hostile to Trump to put out information that is "highly salacious" just days before Trump takes office, press secretary Sean Spicer told reporters in New York before Trump spoke.
U.S. intelligence officials have informed Trump about the reports they've received that the Russian government had compiled potentially compromising personal and financial information on him, a person familiar with the situation said.
CNN reported on Tuesday that as part of a briefing on Russian attempts to meddle in the presidential election, U.S. spy chiefs included a two-page summary of memos compiled by a former British intelligence operative about alleged Kremlin operations to accumulate prejudicial information on Trump and Democratic candidate Hillary Clinton. The FBI hasn't been able to verify the information in the documents, CNN said.
In a series of responses on Twitter Wednesday morning, Trump highlighted the Kremlin's denial of the allegations. "Russia just said the unverified report paid for by political opponents is 'A COMPLETE AND TOTAL FABRICATION, UTTER NONSENSE.' Very unfair!" Trump tweeted.
"Russia has never tried to use leverage over me," Trump posted on Twitter Wednesday morning. "I HAVE NOTHING TO DO WITH RUSSIA - NO DEALS, NO LOANS, NO NOTHING!"
'A Sorry State'
"I win an election easily, a great 'movement' is verified, and crooked opponents try to belittle our victory with FAKE NEWS," Trump continued on Wednesday. "A sorry state!"
Trump later criticized intelligence agencies, saying they "should never have allowed this fake news to 'leak' into the public. One last shot at me. Are we living in Nazi Germany?"
BuzzFeed on Tuesday published the entire 35-page compilation of memos, which contain potentially damaging but uncorroborated information about Trump and his associates. The person familiar with the situation confirmed that the document was the same as the material in the government's possession.
The aim of the alleged Russian government intelligence-gathering was to leverage the information to shift U.S. policy toward Russia, including by potentially blackmailing Trump, according to the memos. President Barack Obama also was briefed on the documents.
Trump Advisers
Trump's top advisers also rejected the memo as false on Wednesday, with incoming chief of staff Reince Priebus calling it "total, complete garbage," on MSNBC's "Morning Joe" program.
Trump adviser Kellyanne Conway said there was never any worry that the BuzzFeed report would be damaging to Trump. "It's not an intelligence report. It's an internet report," Conway said in an interview with Bloomberg News. "It's completely unconfirmed, unverified."
She added: "It's not even fake news. It's fake."
Trump also retweeted a Trump Organization official, Executive Vice President Michael Cohen, who said that "I have never been to Prague in my life," posting a picture of the front of his passport. One of the memos alleged that Cohen had met with "Kremlin officials" in Prague in August 2016.
Priebus said "there was no craziness in Russia" and that he had first heard about "salacious details" in the memo when it was published by BuzzFeed, indicating that they were not included in the briefing Trump received from top intelligence officials last week.
FBI spokesman Andrew Ames declined to comment.
Intelligence Dossier
CNN reported that senior intelligence officials gave Trump a summary of the allegations to make him aware that the information had been circulating among some lawmakers, government officials and journalists.
In excerpts of an interview with Lester Holt of NBC Nightly News scheduled to air Friday, Obama said he wouldn't comment on classified information. The president said he ordered a report by U.S. intelligence agencies on Russian hacking during the 2016 campaign to help prevent it from happening again.
"My expectation and my hope is that this work will continue after I leave," Obama said in the interview. He said he expected lawmakers and Trump's administration to take classified and unclassified reports seriously.
Trump is scheduled to hold his first news conference since winning the election Wednesday at 11 a.m. New York time. The Senate is also scheduled to begin a confirmation hearing for Trump's nominee as secretary of state, former Exxon Mobil Corp. Chief Executive Officer Rex Tillerson, whom Democrats have criticized for having close ties to Russian President Vladimir Putin.
Comey Questioned
Shortly before the election, FBI director James Comey had announced that his agency was re-opening an investigation of e-mails sent by Hillary Clinton while she was secretary of State -- a disclosure she and her aides blame for contributing to her loss. Then-Senate Democratic leader Harry Reid wrote Comey and demanded that he disclose information in the FBI's possession about Trump's connections to Russia.
A former aide to Reid confirmed that the senator knew about the memos published Tuesday before sending his letter to Comey. The issue arose again during a hearing Tuesday on the Russian hacking and extending sanctions. Democratic Senator Ron Wyden of Oregon asked Comey whether the FBI has investigated reported relationships between individuals in Trump's campaign and Russian officials. Comey said he couldn't comment "in an open forum like this."
'Disturbing Allegations'
Democrats began seizing on the memos late Tuesday.
"The intelligence dossier presents profoundly disturbing allegations; ones that should shake every American to the core," Neera Tanden, a Clinton ally who is the president of the Center for American Progress, a Democratic-aligned research group, said in a statement. "They must be fully investigated. The charges levied in this dossier of, among other things, conspiring with a foreign power are extremely serious and call into question whether Trump can be trusted to defend America."
Before last week's briefing by intelligence officials, Trump had expressed skepticism that Russia was responsible for hacks of Democratic Party officials' e-mail accounts during the campaign. The U.S. intelligence community has concluded that Putin ordered the hacking as part of a scheme to tilt the election toward Trump.
Republican and Democratic senators joined to offer legislation on Tuesday that would impose mandatory visa bans and freeze U.S. assets of individuals who carry out cyber-attacks on significant public or private infrastructure or on democratic institutions. Top intelligence officials also reaffirmed their finding that they had "high confidence" of Putin's involvement in the hacking at the hearing by the Senate Intelligence Committee on Tuesday. The hacking was aimed at undermining Clinton and then helping Trump, they said.
They did not assess the "impact on the electorate," they said.
Putin Praise
Trump has repeatedly praised Putin and suggested he wants better relations with the government in Moscow. He's indicated he would review continuing sanctions against Russia over its annexation of Crimea and support of anti-government factions in Ukraine.
As recently as Monday, Conway said in an interview with USA Today that the president-elect may consider rolling back some of the penalties Obama imposed on Russia for interfering in the U.S. election.
One of the memos published by BuzzFeed asserts that Russian intelligence agencies had been "cultivating, supporting and assisting" Trump for at least five years, and that Russian operatives believed they had enough compromising information to blackmail him "if they so chose."
Kremlin spokesman Dmitry Peskov Wednesday dismissed the allegations as "a complete fake," saying that Russia does not have any compromising materials on Trump or Clinton. "This is what's called 'pulp fiction,"' he said. "It's an obvious attempt to harm our bilateral relations."
— With assistance by Nafeesa Syeed, Steven T. Dennis, Jennifer Jacobs, and Ilya Arkhipov
Before it's here, it's on the Bloomberg Terminal.
LEARN MORE