The Radical Moneymaking Schemes of Peter Thiel's Youth Movement
Alexandra Wolfe examines Northern California's techtopia.
By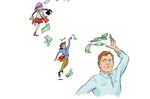 "Youth is a must for the new breed," writes Alexandra Wolfe in Valley of the Gods: A Silicon Valley Story (Simon & Schuster, $27), a jauntily paced anthropological look at Northern California's techtopia. The Palo Alto semispoof is becoming a crowded genre (Mike Judge's HBO show, Antonio García Martínez's memoir Chaos Monkeys, etc.), but Wolfe, a Wall Street Journal reporter and former Bloomberg Businessweek columnist, has found relevant new eyes through which to show outsiders around: PayPal co-founder Peter Thiel's first fellows.
In her prologue, Wolfe tells us she befriended Thiel in 2006 when he invited her to a salon at his New York home. One of the libertarian Trump supporter's pet contrarianisms is that the tech revolution has made college obsolete. So in 2011, he started his fellowship program, giving 20 kids under age 20 $100,000 each to "stop out" of college for two years, move to the Valley, and start a business—preferably one that would change the world. Wolfe, given entrée by Thiel, loosely stakes her story on three fellows, though the narrative isn't entirely theirs.
She veers along a number of off-roads like a driverless car programmed by one of the Valley's underslept child-engineers. We visit coder communes; get a glimpse into weird eating customs, transgressive yoga regimens, and dress preferences (T-shirts); absorb the influence of power players (Uber's Travis Kalanick, Facebook's Mark Zuckerberg and Sheryl Sandberg, Tesla and SpaceX's Elon Musk, Google's Sergey Brin); and learn the culture's leitmotifs—developing outer space, failing, getting rich but pretending not to care, fine-tuning artificial intelligence, and curing death.
It's an interest in the last theme that helps Laura Deming, Wolfe's most compelling subject, win her fellowship. Deming had been toiling in labs since age 12, hoping to locate the secret behind the human life span (so limiting!). Her Thiel-approved scheme is the Longevity Fund, which funnels venture capital to scientists working in that realm—one such group is trying to "delete" old cells from the body. In the Valley, her idea has competition: Google co-founder Larry Page's Calico labs has $750 million and its own research team. (Thiel's vampiric interest in the actual blood of the young, in the form of a transfusion procedure called parabiosis, has been documented, though it isn't in the book—an odd omission, since mice transfusions are.)
Deming struggles to find capital—"It was a hard sell in her case, because the results were so far away," Wolfe writes—but the rare female starter-upper eventually "becomes the darling of Silicon Valley's aspiring immortals," accepting speaking engagements and awards. Still, Deming flounders on the shoals of meaninglessness, watching cash being thrown at half-baked ideas, and she grows wispy on a fruitarian diet that "helped her fit into a place where baseline nerdiness wasn't nearly enough."
Fellow fellow James Proud, a South Londoner, has better luck emotionally and fiscally. After five years, he raises $50 million for a sleep tracker called Sense and sets up an office in San Francisco's hip Potrero Hill neighborhood. John Burnham, who got into the program with a plan to mine asteroids, is one of the few to return to college. The book ends with him finding analog satisfaction in a humanities program.
Wolfe's father is Tom Wolfe, whom she acknowledges as her writerly spirit guide in the book's first chapter. She notes that CrossFit trainers cycle with tech clients past psychedelic guru Ken Kesey's house on Old La Honda Road. He and his Merry Pranksters were the subject of Tom's dropout-lit classic, The Electric Kool-Aid Acid Test. "The techies' one true obsession is work," Wolfe Jr. writes. "The Pranksters' one true obsession was not working, which Kesey calls 'moving off dead center,' and taking hallucinogens until, as he also called it, 'you junked it out through the other side.' " These might seem like antithetical positions. But the fever dreams fueling the Valley—capitalism on acid—are no less hallucinogenic than the Pranksters' and are best interpreted in only one way: Kids, stay in school.
Before it's here, it's on the Bloomberg Terminal.
LEARN MORE