technology
Prince Estate Signs Deal With Azoff for Songwriting Royalties
By
Agreement covers composer's rights on radio, public venues

Music executive has vowed to get more for writers, performers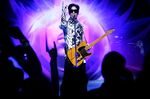 Prince's estate cleared another hurdle toward making the late musician's work more widely available, selecting music mogul Irving Azoff's Global Music Rights to handle certain licensing ventures.
The deal between the estate of Prince Rogers Nelson and Global Music Rights covers so-called performing rights -- songwriting royalties for music played on radio stations, online services and public performances, according to a statement Wednesday. GMR will collect royalties for songs on the radio, where Prince can already be heard, and work with other groups representing the estate to make deals with online services like Spotify and Apple.
While Prince zealously guarded and controlled his music, removing it from most streaming services in 2015 over his discontent with compensation, his family and their representatives are now trying to make the catalog more widely available. They previously chose Universal Music Group to represent Prince's publishing rights and are in the process of selecting a record label to handle many of his recordings. On Tuesday, they also awarded Universal the rights to control Prince's image for merchandise and branding.
"This is one of the most preeminent music catalogs ever created," Randy Grimmett, chief executive officer of GMR, said in an interview. "Fans will soon have it accessible to them in all the ways consumers like to hear music."
Grimmett, a longtime music executive, and Azoff, who manages Christina Aguilera, launched Global Music Rights in 2014, promising artists more royalties from radio stations and online services than they receive from the leading performing rights organizations, ASCAP and BMI. They signed up Drake, Pharrell and the Who, among others, though they still represent a small fraction of the overall market.
Musical artists primarily collect royalties from three main sources. Songwriters receive payments for sales and streams of music through their publishers, while producers and performers collect royalties from a record label. Performing rights organizations, like Global Music, collect writing royalties when music is played at malls, theaters and on the radio, both online and terrestrial.
Prince left ASCAP before he died, but couldn't transfer his music to another organization due to existing licenses, according to GMR. Grimmett had been in touch with the artist about bringing the catalog to GMR when the time came, and stayed in touch with his estate after his death last April. While the agreement was announced Wednesday, Grimmett reached a deal with the estate late last year.
In selecting Global Music Rights, the estate chose a less-established player with the stated mission of capturing a larger share of the pie for musicians. ASCAP and BMI represent about 95 percent of the songs played on the radio, but have less freedom to negotiate because they are subject to government regulation. GMR isn't.
"There is this big push to have the music up in time for the Grammys," Grimmett said. "That's something where Universal and GMR will work hand-in-hand."
Before it's here, it's on the Bloomberg Terminal.
LEARN MORE