Food Delivery Startup Munchery Cuts Staff, Parts With Founders
The reductions affected chefs, photographers, and the business side
by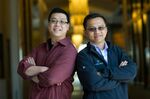 Food delivery startup Munchery cut about 30 employees this week. The company's founders Tri Tran, the former chief executive officer, and Conrad Chu, the company's chief technical officer, will leave the startup at the end of the month, CEO James Beriker said.
Beriker joined Munchery in November, with Tran becoming chief strategy officer. The company announced the reductions to employees Tuesday, said a person familiar with the matter, who declined to be identified because the cuts haven't been made public. The dismissals touched the company's culinary team, research and development staff, photographers and business development employees, the person said.
"It really was not strategic," Beriker said. "Companies are often culling as they focus on different things and for us, it's normal course. It's always hard to see people go." Tran and Chu did not respond to requests to comment.
"As with all journeys, there have been highs and lows, but we went through it together. Our hope is that we all became better for it," Tran wrote in an e-mail to employees obtained by Bloomberg. "You either win or learn, never lose."
Munchery cooks and delivers meals to hundreds of thousands of customers in several U.S. cities. It began delivering food in San Francisco 2010 and has struggled to find a profitable business model. Bloomberg revealed last year that from September 2014 to July 2016, Munchery's San Francisco kitchen made about 653,400 dishes that never got sold. Many dishes went to waste, others were donated to charity. The company lost at least $5 million a month for months and has struggled to bring down its costs. Beriker has told employees that he wants the company to turn a profit by the fourth quarter of this year, the person said. Munchery has raised more than $120 million, much of it from the venture firms Sherpa Capital and Menlo Ventures.
While investors have plowed billions into food delivery business over the past few years, hardly any of them have shown that they are profitable, sustainable businesses. The payments company Square Inc. acquired the food deliver startup Caviar, only to turn around and attempt to unsuccessfully sell the money losing endeavor. Postmates struggled to raise a new round of financing at the end of last year, only to turn to existing investor Founders Fund for more capital. DoorDash raised money at a down round. Meanwhile, Uber has moved aggressively to build a global food delivery business called UberEats.
GrubHub, which went public in 2014, has proved the exception. The company's stock soared for much of 2016 and has a market capitalization of $3.2 billion.
Before it's here, it's on the Bloomberg Terminal.
LEARN MORE