Ex-Barclays Banker Leaked Tips for Job With Plumber; Gets Jail
By
Steven McClatchey passed merger information to boating pal

Plumber made $76,000 from trades, turned government witness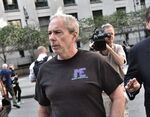 A former Barclays Plc director said he had enough after 32 years on Wall Street and was hoping to land a less stressful job at a friend's Long Island plumbing company. So he started passing tips about pending mergers to him.
Instead of landing a cushier job, Steven McClatchey will spend five months in prison, as a judge rejected his request for home detention. Prosecutors sought a prison term of 10 to 16 months.
"I'm a good man who made a serious error in judgment," McClatchey told U.S. District Judge Katherine Polk Failla in Manhattan at his sentencing hearing Wednesday.
McClatchey pleaded guilty in July to passing information that his plumber friend, Gary Pusey, used to make 10 illegal trades in companies including Questcor Pharmaceuticals Inc., PetSmart Inc., Emulex Corp. and Omnicare Inc. Pusey, who pleaded guilty and agreed to cooperate with prosecutors against his former pal, made about $76,000 on the trades, prosecutors said.
Pusey rewarded McClatchey with cash, which he put in his friend's gym bag or passed in thank-you handshakes, and by providing free tiling work in McClatchey's home, prosecutors said.
"This was a period of 19 months, with multiple trades," Failla said, in rejecting the defense plea for a sentence of home confinement. She called McClatchey's actions "an extraordinary breach of trust."
For more on insider trading cases, click here.
McClatchey and Pusey met at the Yachtsmen's Cove marina in Freeport, Long Island, where the two men docked their boats and became friends in 2011 or 2012, according to a letter filed with the court by McClatchey's lawyer. By 2013, the two men spent most Saturdays together at the marina, on their boats or playing pool and watching sports in McClatchey's garage.
McClatchey worked in Barclays' investment-banking division and reported directly to the company's global head of mergers and acquisitions, according to the SEC, which filed a civil suit against him and Pusey. He was responsible for putting together a weekly presentation to keep executives abreast of potential mergers involving the bank's clients.
McClatchey pleaded guilty to conspiracy and securities fraud. Pusey pleaded guilty May 27.
The case is U.S. v. McClatchey, 16-mag-03433, U.S. District Court, Southern District of New York (Manhattan).
Before it's here, it's on the Bloomberg Terminal.
LEARN MORE