Carney Signals Bank Buffer Hike If U.K. Economy Holds Steady
By
Countercyclical capital buffer may be increased in the summer

Higher level may be warranted despite Brexit uncertainty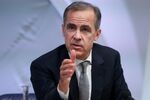 Bank of England Governor Mark Carney signaled he could raise banks' capital requirements as early as this summer to help curb mounting consumer borrowing should the U.K. economy remain steady following the nation's vote to leave the European Union.
There "will be a case" for the BOE's Financial Policy Committee to raise the countercyclical capital buffer for U.K. lending if the economy continues to perform as it has in recent months, Carney told lawmakers from Parliament's Treasury Committee in London on Wednesday. He said uncertainty stemming from Brexit negotiations won't necessarily matter unless the economy or credit conditions worsen.
"The judgment may be that it's appropriate to raise it," Carney said. "This is part and parcel of the framework. You can expect us both to release it when it's necessary, but absolutely to rebuild it as soon as it's practicable."
Carney cut the buffer, which forces banks to hold capital against risk-weighted assets, in the immediate aftermath of the June 23 Brexit vote, aiming to raise lending capacity by as much as 150 billion pounds ($184 billion). The move sought to stave off a Brexit shock-induced slump by encouraging banks to lend. Since then the economy has performed better than some analysts anticipated with surging U.K. consumer borrowing.
Unsecured Loans
"We certainly won't sit here wringing our hands and saying 'this is terrible, the Brexit negotiations create uncertainty, we can't touch the buffer,'" FPC external member Martin Taylor, a former chief executive officer of Barclays Plc, said at the same meeting of lawmakers. "I'm sure the banks can see how the economy is performing, can see their unsecured loan books and draw the same conclusions that we might."
The comments from Carney and FPC members tally with the central bank's recent reassessment of the economy's prospects. It raised its growth forecasts in November and dropped a plan to cut interest rates for a second time, while Carney indicated on Wednesday there could be another upgrade to the outlook in its next assessment in February.
U.K. consumers borrowed at the fastest pace in more than 11 years in November, a sign that households continued their spending spree in the wake of last year's Brexit vote. Net consumer credit was 1.9 billion pounds, the most since March 2005, according to BOE data published Jan. 4.
"It's certainly a flashing light and we will look at it carefully in the next quarter," said Taylor. Forcing banks to hold more capital through the countercyclical buffer could be one way to curb mounting consumer borrowing, while the BOE could also include a severe credit test in its annual assessment of banks' resilience to financial shocks, said Alex Brazier, the central bank's executive director for financial stability strategy and risk.
For a report on the latest U.K. economic trends, click here.
The countercyclical buffer -- a post-financial crisis measure designed to be bolstered in good times and eased in downturns to support lending -- had been due to be introduced in March of this year at 0.5 percent, before the surprise Brexit vote sparked concern that the economy could seize up. Officials said in November they would hold the measure at zero until at least June, while Carney said if the economy is in a "normal state," he would like to see the measure rise to about 1 percent.
"Part of the reason for doing this proactively was to show no doubt that these buffers can be released and banks shouldn't hoard capital," external FPC member Anil Kashyap said at the hearing. "That doesn't mean it's stuck down forever."
Before it's here, it's on the Bloomberg Terminal.
LEARN MORE