Cardenas Says He'll Urge Colombia Central Bank to Cut Rates
By
Economic models show inflation will return to target this year

Sees economic growth recovering to 2.5% to 3% this year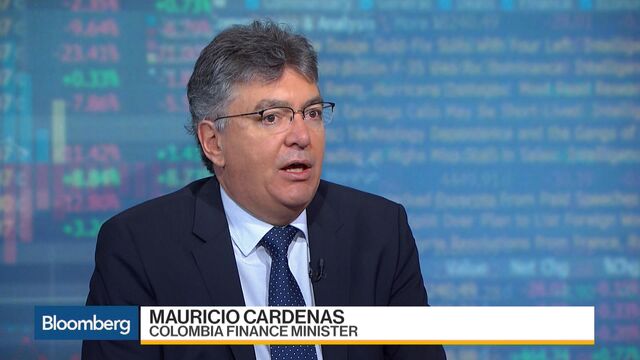 Finance Minister Mauricio Cardenas says Colombia needs to cut interest rates further as inflation is on course to reach its target by year end, contrasting with the more cautious comments of the new central bank governor.
"All the models forecast that inflation will be back within that range, between 2 and 4 percent," Cardenas said Wednesday, in an interview on Bloomberg TV. "I very much hope that we'll continue cutting rates."

Cardenas's remarks come three days after central bank Governor Juan Jose Echavarria said in an interview that policy makers won't necessarily cut rates again if they're unsure that inflation will hit the target in 2017. The bank unexpectedly cut borrowing costs for the first time in almost four years last month, as the economy grows at its weakest pace since the global financial crisis.
The seven-member central bank board, which includes Cardenas, was split at its last two meetings as policy makers balance the risks of inflation remaining above target for an extended period against the threat of a steep slowdown in growth. Cardenas said the economy can grow between 2.5 percent and 3 percent this year, depending on what happens with interest rates.
"That means the worst is over and Colombia's economy is going to be back on track, basically," he said.
Cardenas said the current policy rate of 7.5 percent is "high", but that he didn't know how far it would need to fall to make monetary policy neutral again.
Ratings Agencies
Annual inflation slowed to 5.75 percent in December, down from a 16-year high of 8.97 percent in July, when a drought hit food supplies and a weaker peso raised import prices. Colombia targets inflation of 3 percent, plus or minus one percentage point.
Cardenas said his trip to New York this week was intended to "give comfort" to the credit ratings agencies. Colombia is rated at the second-lowest investment grade by Moody's Investors Service, Standard & Poor's and Fitch Ratings. Congress passed a tax reform in December designed to prevent a downgrade, after S&P and Fitch last year put the country on negative watch as falling oil prices hit government revenues.
The Andean nation is in "no rush" to issue bonds, though it could exploit any window of opportunity, and would be "more inclined" to issue in dollars than in euros or yen, he said. Cardenas said that Colombia hasn't suffered any contagion from Mexico, whose currency has weakened 17 percent since Donald Trump was elected U.S. President on fears he'll renegotiate or scrap the North American Free Trade Agreement and slap taxes on companies that move production to Mexico.
Before it's here, it's on the Bloomberg Terminal.
LEARN MORE