Photographer: Getty Images
Brexit Bulletin: Finance Plays Jenga
Top bankers warn lawmakers of the risks of a disorderly split.
By
Sign up to receive the Brexit Bulletin in your inbox, and follow @Brexit on Twitter.
The U.K.'s financial industry began 2017 as it finished 2016, with warnings that a botched Brexit would create havoc.
London Stock Exchange Chief Executive Officer Xavier Rolet led the charge on Tuesday by telling lawmakers a disorderly split between the U.K. and European Union could cost 232,000 jobs if London lost its euro-clearing business.

He again called for a "grandfathering" of current rules to allow markets and companies up to three years to adjust to the break-up and adapt to the new trade relationship. His point was echoed by HSBC Chairman Douglas Flint and Elizabeth Corley of Allianz Global Investors.
Flint spoke of playing "Jenga," a game in which players remove wooden bricks from a tower until it collapses.
"All of us are struggling with what we call Jenga," he said. "You don't know if you pull one brick out what will happen."
A paper from the House of Commons library this week highlighted the importance of British finance to both the U.K. and EU economies. It estimated the industry and related business services sold about £50 billion ($60 billion) worth of services to other EU members in 2015.
Prime Minister Theresa May has acknowledged there may need to be an "implementation phase." Elsewhere in Parliament on Tuesday, Brexit Minister David Jones said the City of London was at the top of the list when the government begins talks, and Foreign Secretary Boris Johnson promised its status as a financial hub would remain intact.
The sector may be heartened by a report on Tuesday by Oxford Economics, which said its baseline forecast is now for a transitional agreement lasting two to three years, which extends current tariffs and regulations.
"The whole purpose of such an arrangement would be to minimize disruption," economist Andrew Goodwin said. "It would offer a more realistic timescale in which to agree a free-trade agreement."
Let's Make a Trade Deal
Fresh off a trip to the U.S., Johnson was also bullish in claiming that the incoming administration of Donald Trump wants to complete a "fast" trade deal with the U.K.
"There was a huge fund of goodwill for the United Kingdom on Capitol Hill, a large measure of understanding that now is the time to do a free-trade deal," Johnson said. "They want to do it fast and that understanding was most vivid on behalf of the incoming administration."
Helping to ensure that will be Antonia Romeo, who was on Tuesday named the top civil servant in the trade department.
The U.S. is just one of the countries the U.K. will need to strike a trade pact with if it is to make a success of Brexit. Click here for a review of what other nations are saying about their plans to engage with the U.K. on commerce.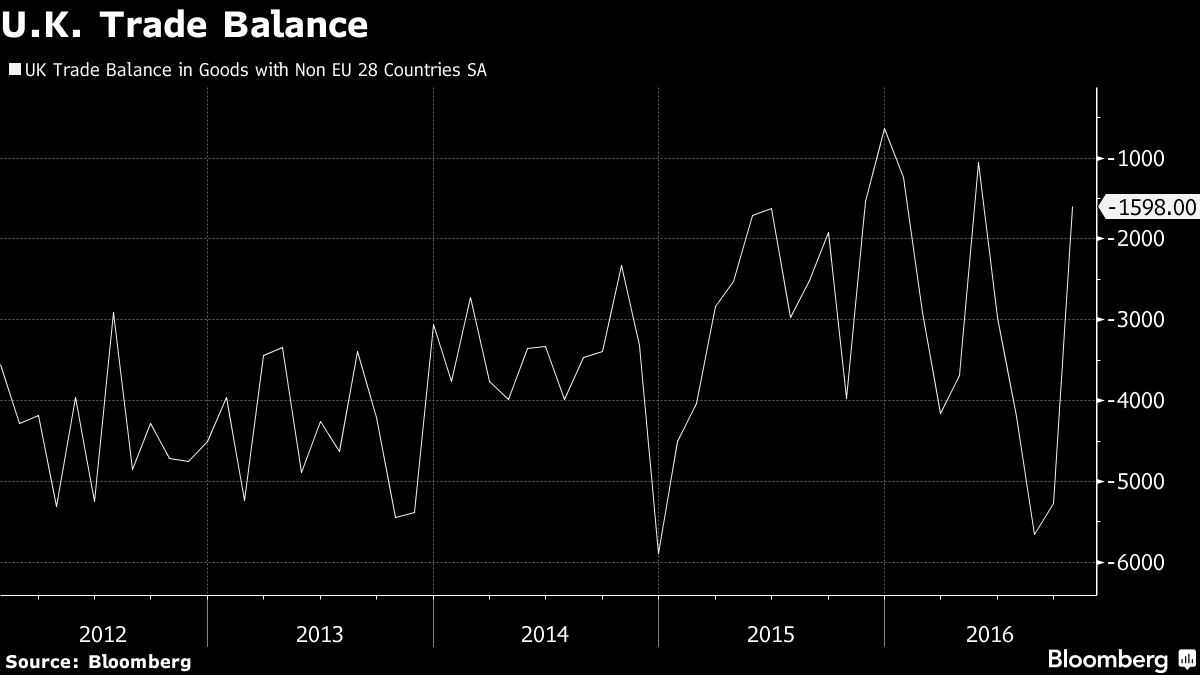 Corbyn Backtracks
Opposition Labour Party Leader Jeremy Corbyn's attempt to outline his vision for Brexit ran into trouble as he was forced to backtrack on two of his proposals.
He retreated from imposing a cap on salaries within hours of suggesting it, as economists branded the plan unworkable.
He also pulled back on a statement that his party was "not wedded" to the EU's freedom of movement laws, saying later he didn't "rule out" maintaining them if that meant access to the single market.
On the Markets
The pound fell to its weakest in more than two months even as a larger-than-forecast increase in industrial production failed to soothe investors worried about Brexit.
On Tuesday, sterling's slide allowed the FTSE-100 Index to post a record ninth consecutive all-time high.

At HSBC, strategists have created a "Brexometer" to track how hard the market thinks Brexit will be. The pound's current value of about $1.21 suggests to them that investors are expecting a relatively hard Brexit.
The hardest Brexit would merit sterling at $1.10, while no split at all would mean $1.55, they said.
Brexit Bullets
May's Cabinet preparing for Brexit loss at Supreme Court, says Guardian
EU drugs oversight may become "mission impossible" after Brexit, says head of European Medicines Agency
World Economic Forum warns rising inequality and social polarization to shape globe for next decade
Most German companies expect a soft Brexit, survey shows
U.K. considering a unilateral pledge to allow European citizens residing in the country to remain after separation, Brexit Minister Jones says.  Immigration Minister Robert Goodwill says there may be a cap on EU migration
Number of companies seeking office space in Dublin may be "overstated," said landlord Irish Life Investment Managers
Brexit campaign chief Dominic Cummings outlines in Spectator how the referendum was won
World Bank says Brexit negotiations to weigh on European economies
And Finally?
The pound's post-Brexit vote drop has triggered a flurry of real estate deals in Portugal as British second-home owners sell properties -- sometimes at a discount -- and still make a profit, according to investors and real estate brokers.
Bloomberg's Henrique Almeida reports that nowhere has this trend been more evident than in southern Portugal's Algarve, a long-favored destination for British nationals, where demand from French property investors is now on the rise.

For more on Brexit follow Bloomberg on Twitter, Facebook and Instagram, and see our full coverage at Bloomberg.com
Before it's here, it's on the Bloomberg Terminal.
LEARN MORE