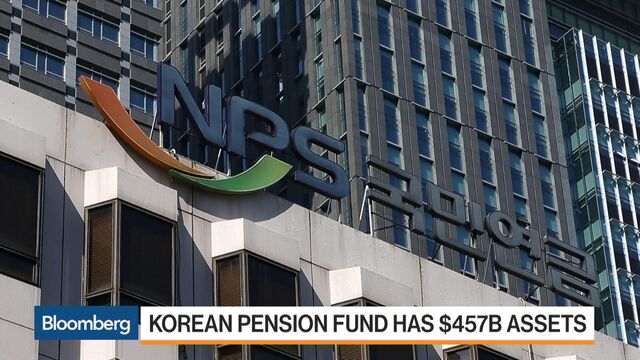 With 546 trillion won ($456.5 billion) in assets, South Korea's public National Pension Service is the world's third-largest pension fund, behind Japan's and Norway's. It's also become a part of the widening scandal surrounding impeached President Park Geun-hye.
On Dec. 31, a Seoul court issued a warrant for the arrest of Moon Hyung-pyo, chairman of the NPS. He was suspected of having pressured the fund, when he was a government minister, to support the controversial merger of two Samsung Group-affiliated companies. Moon's lawyer said the chairman denied the allegations, according to reports in Korean media. Authorities also want to know whether Samsung made donations to benefit a confidante of the president in exchange for help getting NPS support. Jay Y. Lee, Samsung's heir apparent and de facto leader, was summoned as a suspect on Jan. 12 and questioned more than 22 hours. Prosecutors will decide whether they will request an arrest warrant or not as early as today. Both Samsung and Lee have denied wrongdoing. The NPS has said it supported the deal based on investment considerations.

Established in 1988, the NPS is Korea's main public retirement plan and a major investor in the country's blue-chip companies, owning 9 percent of Samsung Electronics, 8 percent of Hyundai Motor, 10.3 percent of LG Display, and large stakes in other prominent companies. Its potential influence as a shareholder makes it a natural target for pressure from politicians seeking favors from the corporations in its portfolio. The scandal has "created huge risks to the integrity and legitimacy of the NPS," says Katharine Moon, a political science professor at Wellesley College.
As the fallout from Park's impeachment spreads, some lawmakers are looking into reforming the pension service. The alleged use of the fund's investment clout to advance politicians' agendas "can bring doubts on Korea's capital markets overall," says Chae Yibai, a National Assembly member from the opposition People's Party. "We need to discuss the matter of the independence of the investment management unit from the control of the government, like overseas pension funds," he says.
Despite its size, the NPS often takes a passive approach in its relations with the chaebol, the family-run conglomerates that dominate Korea's economy and have close ties with local politicians, says Woojin Kim, an associate professor of finance at Seoul National University. The fund's management structure contributes to its low-key approach. The NPS has three decision-making bodies to provide public input into investment decisions, but "none of them is formed of members with knowledge of asset management or pension funds," says Kim Sang-Jo, a professor of international trade at Hansung University in Seoul. Instead, officials from business lobbies, labor unions, and civic groups dominate the committees, and "they have little power or interest in decision-making on important issues at NPS," says Kim.
The NPS has occasionally taken a more active role, particularly when the government has the lead on an issue. In early 2016 the fund announced plans to blacklist companies that didn't follow Park's directive to raise their dividend payouts, part of her effort to get chaebol to reduce their cash hoards and return money to shareholders through dividends or to workers via wage increases.
The NPS has recently felt some pain from a government-dictated relocation of its headquarters to Jeonju, a sleepy provincial capital about 125 miles south of Seoul. During her campaign for president in 2012, Park pledged to help redevelop the southwestern city. More than 30 fund managers, including about 20 in charge of overseas investment, have left the fund rather than relocate, according to the NPS.
By focusing public attention on the tangled relationships among the government, the fund, and business, the turmoil may ultimately help the NPS achieve one stated goal: to invest more outside Korea. "The Korean stock market is going to be too small for them," says Michael Na, a Korea strategist with Nomura. "More and more of the money will go overseas." Foreign investments account for less than 150 trillion won, about 27 percent of its total assets, but the NPS wants to expand its foreign portfolio to more than 300 trillion won by 2021. This year it plans to increase international holdings by about 25 trillion won, of which 10 trillion will go to alternative investments such as private equity or bank loans. The NPS in July picked BlackRock and Grosvenor Capital Management to manage as much as $1 billion in hedge fund investments. As for local stocks, the fund "will cautiously approach investing in domestic markets for this year," spokeswoman Chi Young Hye says.
Moving beyond Korean equities wouldn't only reduce the risk of political meddling but would also potentially improve investment performance, says Moon of Wellesley. That will be essential as NPS fund managers face the task of supporting Korea's aging population. "They know the math," she says. "There will have to be a push to diversify and decrease the overinvesting in a small number of companies."
The bottom line: Korea's public retirement plan is a major shareholder in the country's most important companies, and its chairman has been arrested.
Before it's here, it's on the Bloomberg Terminal.
LEARN MORE