markets
1930s-Like Demographic Headwinds Are Restraining the U.S. Economy
Echoes of the Great Depression.
By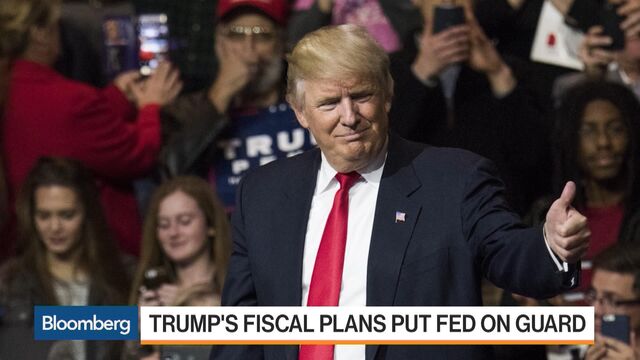 All eyes are on President-elect Donald Trump's imminent arrival at the White House and whether his administration follows through on an agenda that — when it comes to the economy — features a growth target almost double that of recent years. 
Outside the headlines, however, are demographic pressures reaching levels not seen since the Great Depression. That bodes ill for achieving the 3 percent to 4 percent gains in gross domestic product envisioned by Trump's pick for U.S. Treasury secretary, Steven Mnuchin. Without an improvement in productivity or an influx of people into the workforce, GDP can't accelerate. 

Like many things, including business formation, productivity and capital spending, the expansion in U.S. residents shows sustained damage from the financial crisis of 2008-2009. The American population rose by 0.7 percent to 324 million people last year, according to an estimate released by the Census Bureau in December. That matched 2013's figure for being the smallest rise since 1937, when the country was struggling with the Great Depression, according to analysis by Thomas Costerg at Standard Chartered Plc.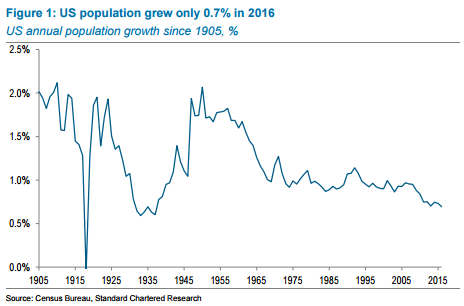 "This is a stark reminder that the ongoing productivity challenge seen since the global financial crisis is compounded by continuing demographic headwinds," Costerg, Standard Chartered's senior economist in New York, wrote in a Jan. 10 report.

Since the last recession ended in 2009, the U.S. economy has expanded about 2 percent a year while population gains averaged 0.76 percent — a slowdown from 0.93 percent in the 10 years to 2008, Costerg calculated.

The nation's real estate market is already feeling the hit,  Costerg argues. The number of new households has averaged 32 percent fewer in the past five years than in the decade to 2008, Costerg wrote, citing Census Bureau data. That means lower demand for everything from builders to painters to home appliances — reducing incentives for companies to boost investment in the U.S., despite aging plants and equipment:


Immigration could help propel population growth, but that's hardly been a pillar of Trump's agenda, which has featured tax cuts, an infrastructure program and incentives for American companies to bring money home from overseas. His calls to eject undocumented residents and strengthen border controls could act in the other direction. Without immigrants, it may be tough to meet Trump's "jobs president" pledge of creating an average of 2.5 million jobs per year over a decade.
"Recent signals from President-elect Trump suggest that this may not be the road traveled," Costerg wrote, referring to immigration incentives for highly educated foreigners that could also help bolster U.S. productivity.


Demographic headwinds years after a financial crisis, reluctance to embrace immigration ... This narrative would be familiar to observers of another developed nation: Japan, which is still trying to escape stagnation after two decades.


Before it's here, it's on the Bloomberg Terminal.
LEARN MORE