Your Evening Briefing
Here are today's top stories
Bloomberg News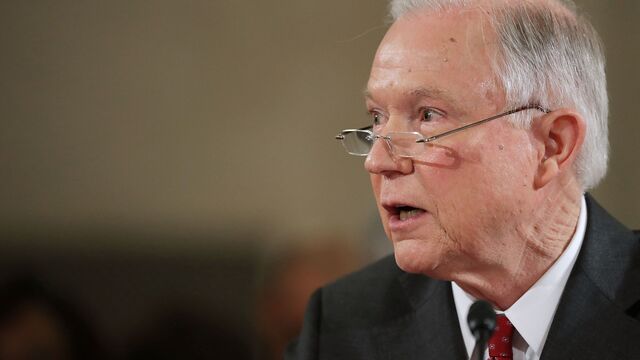 Want to receive this post in your inbox every afternoon? Sign up here.
The inauguration of Donald Trump is just 10 days away, and the transition rumbles on–with his attorney general nominee's Senate confirmation hearing today, and not without a critique from Secretary of State John Kerry over a lack of progress toward the changeover at the State Department.
Where Trump's presidency begins, another ends; President Obama will make his farewell speech from Chicago at 9 p.m. ET today. –Emily Banks
Jeff Sessions vowed he'd recuse himself from any Clinton probe, as attorney general. As he seeks to become President-elect Donald Trump's attorney general, U.S. Senator Jeff Sessions, an especially conservative Republican from Alabama, emphatically rejected decades-old charges of racism. He also said he would recuse himself from any investigation into former Secretary of State Hillary Clinton or the Clinton Foundation. "We can never have a political dispute turn into a criminal dispute," Sessions said Tuesday at his confirmation hearing, which was interrupted several times by protesters.
Farewell to the chief: assessing Obama's presidency. During his eight years in office, Bloomberg View has published hundreds of columns about President Obama, critiquing his policies, assessing his successes and analyzing his failures. As he delivers his parting shots this evening in a farewell address, our columnists recall the moments that left a mark on them.
Switzerland just had the worst month for skiing in 100 years. An ultra-dry December marred the start of the ski season in the mountainous heart of Europe, which draws millions expecting Instagram-ready white peaks and pretty villages. A colder January is improving conditions, but the unpredictable early winter weather cut ticket sales at resorts and confounded holiday planning.
A new wave of aggressive yoga classes incorporates cardio, CrossFit, and boxing. Hybrid takes on vinyasa flow are the latest attempt to convince Type-A guys that spending 60 sweaty minutes stretching next to scantily clad women is a good idea. These boot camp-style workouts and classes come with such names as Hardcore Yoga, Core Power Yoga, and Cross Flow X, integrating elements of weightlifting, martial arts, Spin, and boxing.
Some tech companies are trying affirmative action hiring–just don't call it that. In the two years since tech giants revealed that most of their employees were white and Asian men, their diversity has only increased a few percentage points–or, in some cases, dropped. Many companies' first response was to make the hiring process more "blind," but now they're going further, setting hiring goals and rewarding recruiters for "diversity hires," for instance.
Duck boots and politics don't mix. L.L. Bean found itself under threat of boycott from activists after Linda Bean, granddaughter of founder Leon Leonwood Bean and a member of the company's board of directors, donated to a pro-Donald Trump PAC. It's the latest brand to drift into a blizzard of political vitriol over a perceived stance on the president-elect's politics.
Travel like a boss to the hot spots where bankers vacation. We asked eight influential financiers to reveal their favorite places to unwind—and offer our own advice on how to recreate their trips, from an adventure in Kenya to a remote spot in the South Pacific and more.