Valeant Sells $2.1 Billion in Assets to Ease Debt Burden
by and
L'Oreal will pay $1.3 billion to gain three skin-care brands

China's Sanpower to buy Dendreon cancer unit for $820 million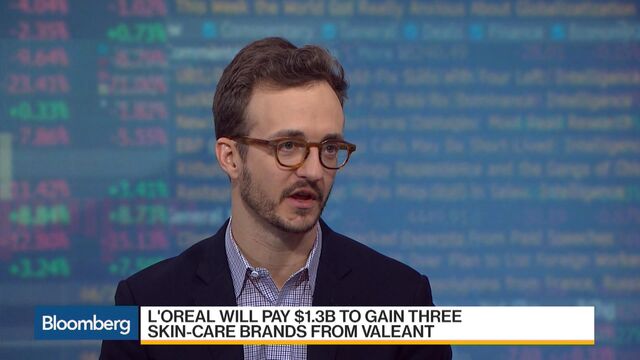 Valeant Pharmaceuticals International Inc. agreed to sell about $2.1 billion in assets in two deals, an important first step in the struggling drugmaker's endeavor to get cash and begin easing its debt burden.
L'Oreal SA, the Paris-based cosmetic giant, will pay Valeant $1.3 billion for three skin-care brands, according to a statement Tuesday. Valeant will also sell its Dendreon Pharmaceuticals unit to closely held Chinese conglomerate Sanpower Group Co. for about $820 million. Valeant's shares and bonds jumped after the news.
The agreements mark Valeant's biggest divestitures in almost three years, and a start to its efforts to pay down about $30 billion in debt. It's a significant break for Chief Executive Officer Joe Papa, who took over in May to help turn around a company that had been embroiled in scandals about high prices and accounting that led to legal and regulatory investigations -- along with declines in its share price.
"There is a lot more to do regarding asset sales to help reduce the leverage more meaningfully, but we view this as a good start," Gary Nachman, an analyst at BMO Capital Markets who rates the shares the equivalent of neutral, wrote in a note to investors.
Nachman and at least three other analysts said Valeant is getting solid prices for the assets, which is good news for a company that's under pressure to raise cash. The deal with L'Oreal offered the biggest premium, valuing Valeant's skin-care brands at 7.7 times their annual revenue.
'Decent Price'
"The valuation is pretty high; this is a decent price," said Rudi van Den Eynde, who helps oversee about $1 billion in assets at Candriam Investors Group, including L'Oreal shares.
Shares of Valeant, which is headquartered in Laval, Quebec, soared as much as 14 percent, the biggest intraday gain in two months, and were up 5.4 percent to $16.18 at 1:39 p.m. in New York. Its 6.125 percent of $3.25 billion of bonds climbed 1.4 cents to 77.5 cents on the dollar at 12:49 p.m., according to Trace, the bond-price reporting system of the Financial Industry Regulatory Authority.
Proceeds from both sales will be used to permanently repay term-loan debt under Valeant's senior credit facility, according to the company. The Sanpower transaction is expected to close in the first half of this year, while the sale to L'Oreal should close in the first quarter, Valeant said.
The repayment could help the company in its quest to abide by stipulations in its credit agreement with lenders, according to CreditSights Inc. analyst Eric Axon.
"The move will allow for meaningful debt reduction at the secured level," Axon said in an interview. "There's maintenance covenants in the credit agreement and they've been approaching it. This could provide potential for not having to seek covenant amendment."
Challenging Nestle
L'Oreal agreed to pay a high price for the Valeant brands -- CerAve, AcneFree and Ambi -- to challenge rival Nestle SA in the medicated skin-care industry, said Pierre Tegner, an analyst at Natixis in Paris. Skin care is the largest category in the cosmetics industry, accounting for more than one-third of the global market, according to data tracker MarketResearch.com.
The three brands have combined annual sales of about $168 million and will become part of L'Oreal's Active Cosmetics Division, alongside La Roche-Posay, Vichy and SkinCeuticals, the buyer said.
"What we can see all over the world, including in the U.S., is that there's a huge trend in using medicated skin care," Brigitte Liberman, president of the L'Oreal division, said in an interview. "People want to be reassured by what they're using in terms of skin care, and something developed with a health-care professional is key to reassure the consumer."
Sanpower Deal
The Sanpower transaction, meantime, gives the Chinese company control over Provenge, an immunotherapy treatment for prostate cancer that is the unit's only commercialized medicine. Buying Provenge will put Sanpower at the "cutting edge of the global precision medicine industry," it said.
Valeant bought Dendreon out of bankruptcy in 2015 for $445 million and is selling it at a premium to that price, which is "pretty good in our view," Irina Koffler, an analyst at Mizuho Securities USA Inc., wrote in a report. She has an underperform rating on Valeant shares.
Started by its chairman Yuan Yafei in 1993, Sanpower owns five listed companies in China including a department store operator and several electronics makers. Real estate development, investment funds and senior-care providers are among its business ventures. A deal spree has also given it many foreign assets including Britain's House of Fraser department-store chain.
Valeant held talks to sell its Salix gastrointestinal drugs business to Takeda Pharmaceutical Co., although those discussions later broke down because of disagreements over the price, Bloomberg News reported last year, citing people familiar with the matter.
Through Monday, Valeant's U.S. shares had plunged 94 percent from their 2015 peak, cutting the company's market value to $5.2 billion. Last year the company cut its financial forecast three times, was investigated by law enforcement and said that sales of a key product were falling.
Before it's here, it's on the Bloomberg Terminal.
LEARN MORE