Trump Adviser Flynn Says U.S. to Stay 'Indispensable' Nation
By and
Security adviser says global relationships to be re-examined

'Peace through strength' to be overarching policy, Flynn says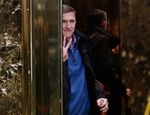 President-elect Donald Trump's choice for national security adviser, Michael Flynn, said the Trump administration may re-examine U.S. relationships around the world but said the nation will remain "indispensable" to global stability.
"The assumption has long been that American power would always be there," Flynn said Tuesday at a conference on the transfer of power at the United States Institute of Peace in Washington. "We have always been an indispensable nation and we always will be."
Flynn gave few details on the policy approach of the Trump administration. During the campaign, Trump made statements that he would rethink U.S. alliances, including asking whether the North Atlantic Treaty Organization might be "obsolete." Flynn's remarks suggested an attempt to reassure allies that the U.S. wouldn't retreat from the world stage.
Pledging an overarching policy of "peace through strength," Flynn, a retired Army lieutenant general, said the "unapologetic defense of liberty" is the "core element of American exceptionalism." That would be the case even as the U.S. begins to "examine and potentially rebaseline our relationships around the globe," he said.
"Whether we like it or not, the world needs us and in fact demands it," he said. Even as the incoming administration re-examines U.S. relationships, it is with an understanding that "alliances are one of the the great tools that we have."
Few Details
Flynn -- who has been criticized for his broad-brush views of Muslims when it comes to terrorist threats, promoting conspiracy theories and his appearances on Russia's state-owned network RT -- steered clear of those topics in his remarks. He made no mention of "radical Islam" and avoided discussing Russia in any detail.
At a separate session later, K.T. McFarland, a former Fox News analyst and Defense Department official who has been named as Flynn's deputy, said Trump's staff is still working on security policy.
"It takes time to rethink things and to come up with those policies," she said.
McFarland also declined to give any details on the administration's stance toward Russia, which U.S. intelligence agencies have concluded sought to interfere with the presidential election by hacking Democratic Party computers and leaking e-mails in order to damage Democratic candidate Hillary Clinton.
She said it would be a mistake for Democrats to look at Russia as a "scapegoat" for Clinton's loss.
Praise for Predecessor
Flynn struck notes of conciliation. He praised President Barack Obama's National Security Adviser Susan Rice, with whom he shared the stage, and thanked her for working with his team to prepare them to take office. He also gave a shout-out to former Secretary of State Madeleine Albright, who served under President Bill Clinton and backed Hillary Clinton against Trump last year, saying he was in "awe" of her.
Rice, who spoke first, said the "profound" disagreements on approaches to foreign policy and national security between the Obama and Trump teams are "no secret" but that she is fully committed to helping Flynn now and after Trump takes office as a matter of patriotism.
"General Flynn, I am rooting hard for you," she said. "This goes beyond party or politics. This is what the American people expect and deserve."
Rice said the NSC had produced more than 100 memos and made her full team available, meeting "extensively" with Trump's transition team.
Rice also offered a broad defense of Obama's national security approach, from the U.S. economic recovery after the 2008 financial crisis he inherited to the Iran nuclear deal and international climate-change agreements. She highlighted work to contain nuclear weapons, and approaches to cyberthreats, counterterrorism and the Islamic State, China and trade.
"If we don't define these rules of the road, others will for us," she said of the stalled Trans-Pacific Partnership that Trump opposes. Failure to move ahead is "eroding American regional leadership and credibility" and empowering China, she said.
She also warned of Russia's rising threat and uncertainty in Europe, which needs U.S. support now "more than ever." "It might be tempting to turn inward," she said but warned against it. "We must protect ourselves and the international order we helped build."
Before it's here, it's on the Bloomberg Terminal.
LEARN MORE