Trudeau Names Freeland Chief Envoy in Pre-Trump Cabinet Swap
By
Ex-immigration minister John McCallum named China ambassador

Francois-Philippe Champagne becomes new trade minister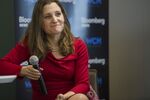 Prime Minister Justin Trudeau is shuffling his cabinet ahead of Donald Trump's inauguration, promoting Chrystia Freeland to foreign minister as Canada gets set to face a new U.S. administration.
Freeland, who as trade minister carried a deal with the European Union over the finish line this fall, will replace Stephane Dion at foreign affairs, according to a statement from the prime minister's office. Governor General David Johnston swore in the new cabinet ministers in Ottawa on Tuesday afternoon in the first major shuffle since Trudeau took power 14 months ago.
Immigration Minister John McCallum will step down to become ambassador to China, while Dion will resign as a lawmaker and leave active politics. Both are among the longest-serving lawmakers in Trudeau's government.
In addition to successfully stick-handling the EU trade file, Freeland led Trudeau's cabinet committee on U.S.-Canada relations -- ties that will be tested if the President-elect follows through on his pledge to renegotiate the North American Free Trade Agreement. The 48-year-old is a former journalist, author and Rhodes Scholar who speaks five languages.
"We have an extremely strong team that will continue to deliver," Trudeau said at a press conference Tuesday.
Putin Critic
Freeland, who is of Ukrainian heritage, is also an outspoken critic of Russian president Vladimir Putin and was banned in 2014 from traveling to the country. While not a sea-change for Canada -- former Prime Minister Stephen Harper was a vocal Ukraine advocate and Putin critic -- it raises a potential flash-point with a Trump administration preaching warmer ties with Russia.
Trudeau brushed aside questions of what impact that will have. "As to how she gets along with Russia, well, she speaks fluent Russian," Trudeau said, condemning "illegitimate and illegal" Russian aggression in Ukraine on Tuesday. "We continue to stand strongly with Ukraine."
Francois-Philippe Champagne, who served as parliamentary secretary to Finance Minister Bill Morneau, will replace Freeland as the new trade minister, while McCallum will be replaced as immigration minister by Ahmed Hussen, a lawyer and Somali-Canadian lawmaker who was an immigrant to Canada himself. Patty Hajdu replaces MaryAnn Mihychuk as labor minister.
Trudeau said he offered Dion a position that the former minister, who is also a former leader of Trudeau's Liberal Party, is considering.