Sessions Seeks to Reassure Senators on Race, Torture, Clinton
By and
Alabama senator opposes Muslim ban, says waterboarding illegal

Nominee says he has 'no hestitation to enforce antitrust laws'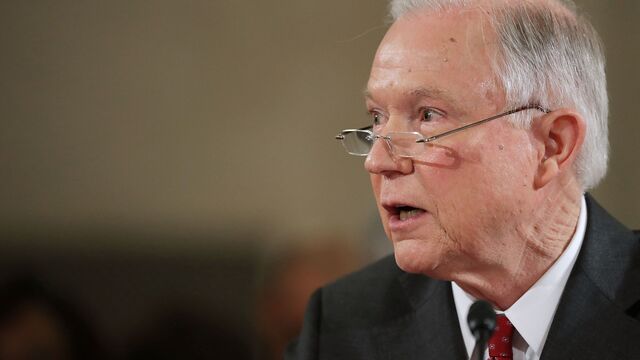 Jeff Sessions sought to reassure colleagues that he's not a racist, would follow the law banning torture and would act independently as President-elect Donald Trump's attorney general, as the senator testified at his confirmation testimony on Tuesday.
Kicking off a set of contentious hearings for Trump's nominees, Sessions kept mostly to points he highlighted in prepared testimony. He said he would enforce the laws and Supreme Court decisions -- even those he disagreed with, such as gay marriage and Roe v. Wade, which legalized abortion. He emphatically countered accusations of racism in his past, saying opponents were trying to present an unfair "caricature" of him.
Under hours of questioning by fellow members of the Senate Judiciary Committee, Sessions sought to tamp down bipartisan concerns that, as the nation's top law enforcement officer, he would be hesitant to act independently as a check on Trump. He said he would recuse himself from any investigation into former Secretary of State Hillary Clinton, described waterboarding as "absolutely" illegal and said he opposes a ban on Muslim immigration, an early staple of Trump's campaign that has since evolved.
"I'm going to follow the laws passed by Congress," Sessions said during a heated exchange with Senator Dick Durbin of Illinois, the Senate's No. 2 Democrat. "The attorney general's role is to enforce the law."
Antitrust Vow
Session didn't touch on some key business issues likely to come across his desk, including the fate of the proposed $85.4 billion merger between AT&T Inc. and Time Warner Inc., which Trump continues to oppose. But the senator said in response to a question that he has "no hesitation to enforce antitrust laws. There will not be political influence in this process."
"The antitrust policies of the United States have to be consistent and as clear
as possible," he said. "That is not always as easy as some people might think."
For a QuickTake Q&A on the confirmation process, click here
On immigration, Sessions held firm that President Barack Obama's decision to grant relief to more than 700,000 people brought to the country as children was legally questionable, adding that Congress and the White House should find a way to agree on immigration policies without resorting to executive orders. He suggested that agreement should come before any "dialogue about how to compassionately treat people who've been here a long time."
"The best thing for us to do is let's fix this system," Sessions told Durbin, who fired back, saying Sessions had opposed bipartisan efforts to revamp immigration policies as a senator.
On the Republican-majority committee, Sessions's testimony didn't elicit major objections that would signal a faltering candidacy, even among those in his party -- such as Lindsey Graham of South Carolina and Jeff Flake of Arizona -- who have sparred with him in the past.
Clinton Probes
His position on potential future probes of Clinton came right off the bat in a discussion with Republican Chairman Chuck Grassley of Iowa, perhaps anticipating Democratic worries. Trump suggested during his campaign that if he won he would order his attorney general to appoint a special prosecutor to go after the former secretary of state. After the election, Trump signaled he had no intention to do so because "I don't want to hurt the Clintons."
"We can never have a political dispute turn into a criminal dispute," Sessions said. "This country does not punish its political enemies, but this country ensures that no one is above the law."
An FBI investigation last year concluded Clinton and her aides shouldn't face criminal charges for mishandling classified materials.
Discrimination 'Horrendous'
Long one of the Senate's more conservative members, Sessions emphatically rebutted a key criticism from his opponents: that he has a history of racist comments and would undermine provisions created to protect voting rights for minorities. A decade before joining the Senate, Sessions had his nomination for a federal judgeship scuttled when witnesses said he had made racist comments.
"I deeply understand the history of civil rights and the horrendous impact that relentless and systemic discrimination and the denial of voting rights has had on our African-American brothers and sisters," Sessions said. "I have witnessed it. I understand the demands for justice and fairness made by the LGBT community. I understand the lifelong scars born by women who are victims of assault and abuse."
New Jersey Senator Cory Booker, one of two black Democrats in the Senate, plans to testify Wednesday against Sessions during a second day of hearings. Senator Chris Coons of Delaware said that while he didn't know whether Sessions was a racist, he was concerned about the disparate impact of the Alabama senator's policy positions.
"I have concerns about the impact of legislation that he's opposed or that he's sponsored and I have some concerns about his record," Coons said Tuesday morning on Fox News.
After the hearing, Grassley said a vote on Sessions's nomination probably won't occur until the week after Trump is sworn in.
Violent Crime
In his opening remarks to the committee, Sessions warned of a "dangerous trend" in violent crime. The 70-year-old Alabama Republican cited FBI data showing murders increased 11 percent in 2015 from a year earlier and evidence of a heroin "epidemic" as signs the U.S. is headed in the wrong direction.
Sessions said he is concerned that recent jumps in violent crime and murder rates from historic lows "are not anomalies, but the beginning of a dangerous trend that could reverse the hard won gains that have made America a safer and more prosperous place."
In a nod to a spike in killings of police officers and police shootings of civilians in recent years, Sessions said that law enforcement "as a whole has been unfairly maligned and blamed for the actions of a few bad actors and for allegations about police that were not true." And, saying it is a civil right for people to be safe in their homes, he promised to vigorously prosecute criminals who use guns.
California Senator Dianne Feinstein, the committee's top Democrat, encapsulated the criticism Sessions faced, saying she wants to know whether Trump's nominee "will enforce laws he voted against," such as hate crimes laws, as well as whether he will be independent of the president-elect.
"An attorney general does not investigate or prosecute at the president's direction," she said. "The attorney general must put aside loyalty to the president" and put the law and the Constitution first.
Read more: a QuickTake on mandatory minimum sentences under Trump
'Extreme Vetting'
The nominee rejected an early campaign promise of Trump's -- a total and complete ban on Muslims entering the U.S., which Sessions noted was later modified to call for "extreme vetting" of people coming from countries with a history of terrorism.
"I have no belief and do not support the idea that Muslims as a religious group should be denied admission to the United States," Sessions said. But he defended a vote he cast against legislation to prohibit the barring of people based on religion.
"Many people do have religious views that are inimical to the public safety of the United States," he said, adding he thought it could be a "factor in the vetting process."
Sessions went on to say he thinks the U.S. detention center at Guantanamo Bay, Cuba, which Obama has sought to close, is a "safe place to keep prisoners," but he rejected waterboarding as "absolutely" illegal.
Republican Senator Lindsey Graham also questioned Sessions about his views on alleged Russian hacking of the 2016 election. As attorney general he'd be FBI Director James Comey's boss. Sessions said he hadn't studied the issue or received a briefing yet on the issue, but is sure the FBI's judgment was "honorably reached."
"It's a significant event," he said.
Sessions' backers say he'll be a dogged and honest enforcer of the law. He headed into the hearing with support from groups such as the Fraternal Order of Police, National Sheriffs' Association, National Association of Police Organizations Inc., Major Cities Chiefs Association and the National Association of Assistant U.S. Attorneys.
"You know that I revere our Constitution and am committed to the rule of law," Sessions said. "And you know that I believe in fairness, impartiality, and equal justice under the law."
— With assistance by Toluse Olorunnipa, and Tom Schoenberg
Before it's here, it's on the Bloomberg Terminal.
LEARN MORE