technology
Obama Alum David Plouffe Joins Zuckerberg's Philanthropic Group
By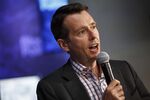 David Plouffe, President Barack Obama's former campaign manager, will lead policy and advocacy for the Chan Zuckerberg Initiative, the philanthropic organization created by Facebook Chief Executive Officer Mark Zuckerberg and his wife, Priscilla Chan.
Plouffe, who has been a full-time adviser for Uber Technologies Inc., will step away from his day-to-day duties, but he'll remain a non-voting Uber board member, the ride-hailing company said. Zuckerberg and Chan have promised to invest 99 percent of their wealth in social causes, including efforts to improve education and to cure disease. In September, the initiative committed $600 million over 10 years to fund a medical research center.
"Advocacy has always been part of our approach," Zuckerberg wrote Tuesday in a Facebook post announcing Plouffe's position. "I'm excited to work with David on this. He has great experience building movements as part of companies like Uber and as campaign manager for Barack Obama's presidential campaign."
Zuckerberg has taken a more political turn of late. This year he has committed to talking with people all across the U.S. He lobbied his board to let him retain control of his company even if he should seek political office.
The addition of Plouffe adds an Obama insider just as Republican Donald Trump is about to become president. Ken Mehlman, a former campaign manager for George W. Bush and chairman of the Republican National Committee, will head the initiative's policy advisory board, Zuckerberg wrote in his post.
"David and Ken built campaigns for different parties but have also come together to work on issues like marriage equality," Zuckerberg wrote.
Plouffe's role at Uber had been largely diminished since Uber CEO Travis Kalanick put former Google executive Rachel Whetstone at the top of his policy and communications organization in 2015, moving Plouffe aside to the chief adviser role.
Kalanick said in a statement, "I'm excited that he'll bring that passion to the world-changing efforts under way at the Chan Zuckerberg Initiative, and that he will remain a key part of our family as an Uber board member, an advocate for our company and an adviser to me."
— With assistance by Sarah Frier
Before it's here, it's on the Bloomberg Terminal.
LEARN MORE